Photos of ONEXONE Charity Event in San Francisco
Stars Come Together to Earn Money and Give Away Kisses For a Good Cause in San Francisco
Charlize Theron looked beautiful on the red carpet last night at ONEXONE's annual fundraiser in San Francisco. The man of the night Matt Damon sadly had to miss it, as he headed back to Boston for a family emergency, but many other stars were happy to lend a hand to the good cause. We chatted with David Arquette about Coco, after he spent the day at the food bank for Feeding America, and Jeremy Piven who had nothing but great things to say about Matt. Inside the event, Charlize even sold a kiss for $140,000! Here's more: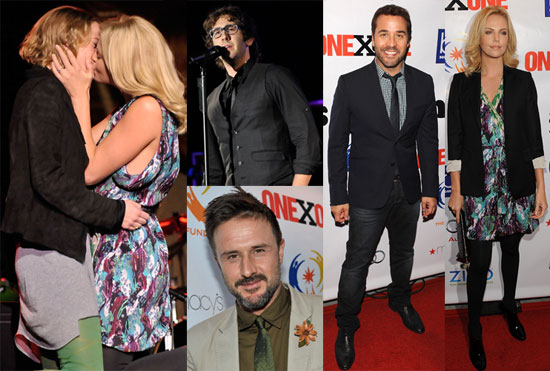 Charlize Theron on bringing Matt Damon's organization and her charity together for the gala: "We reached out to ONEXONE seeing if they wanted to help us out. We have massive issues with fresh water sources in the area we work with in our schools. The next step for us was to build soccer fields. We have the World Cup next year so it just felt right, but there was something wrong about building soccer fields and knowing that a lot of these kids don't have access to running water. Somebody told me about what Matt does, his work with ONEXONE and I was blown away. So I reached out and he was like we would love to be involved."
Jeremy Piven on Matt's appearance on Entourage: "It was amazing. Matt really gets it. He made it so funny. He played just this really weird, twisted, evil version of himself. His heart was in the right place, but his methods of going about things were really really wrong. And in that way I think he's a comedic genius."
To see more from Josh Groban talking Glee and more from Jeremy Piven on Matt, just
.
Josh Groban on his guest spot on Glee: "They asked me to make a cameo and I was like sure, but can you make me creepy or something. I'm tired of playing the vanilla guy. Make me a jerk or something, like Matt on Entourage. Give me something I can really sink my teeth into. It was really amazing. To see so many great theater actors on a hit TV show was really cool for me since my background is in theater. It's amazing to see people like Kristin Chenowith and Matthew Morrison on the show. Such a great group of talented people."
Jeremy Piven on being picking up the slack while Matt is away for the night: "I'm absolutely ready! Whatever it takes. That's what's fun about us all being in this together for ONEXONE. We have each others backs which is really, really great. When Matt appeared on Entourage it was basically a 40-minute infomercial for ONEXONE, and I was honored to even be a small part of this event tonight."