Photos of Paris Hilton, Bar Refaeli, Nicky Hilton Out in Las Vegas
Bar Skips Leo's to Liven Up Lavo With Paris and Nicky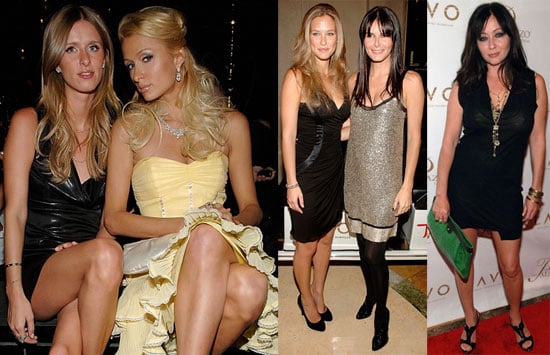 0
Bar Skips Leo's to Liven Up Lavo With Paris and Nicky
The Hilton sisters gathered lots of their famous friends, like Angie Harmon and Shannen Doherty, on Saturday night in Las Vegas at the launch of the new club Lavo. Nicky's boyfriend David Katzenberg was her date, but Paris was flying solo for the evening. Even if she was temporarily away from Benji, things still seem to be going well for them. She recently did her usual gushing, assuring that they're not getting married just yet but saying, "We're really happy, and one day I would love to have children. We're boyfriend and girlfriend. He's an amazing guy . . . we're very in love." Like Paris, Bar Refaeli was also dateless for the night in sin city while her on again off again man Leo partied in NYC. Meanwhile, Shannen Doherty has been happily back on the party circuit making the rounds before maybe returning again to 90210.
For over 40 photos from the event, including Jamie Foxx, Mario Lopez, and Taye Diggs, just
.
Images include: Paris Hilton, Nicky Hilton, Jason Sehorn, Angie Harmon, Bar Refaeli, Busta Rhymes, Will.i.am, Slash, David Katzenberg, Ashley Scott, Shannon Doherty, Taye Diggs, Mario Lopez, Jack Osbourne, Amanda Beard, Amber Heard, Kevin Federline, CariDee English, Cassandra Tan, George Hamilton, Stacy Keibler, Noah Tepperberg, Kevin Connolly, Jeff Beacher, Chris Evans, Danny A, Jamie Foxx, Marcus Schenkenberg, Antonio Sabato Jr.