Photos of Pregnant Ashlee Simpson in Toronto
Ashlee Simpson's Canadian Weekend
Start Slideshow
ADVERTISEMENT ()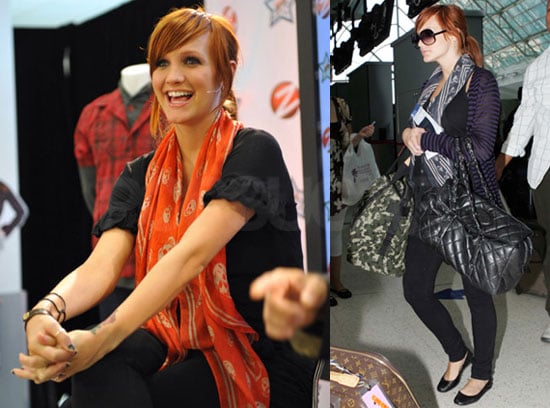 0
Ashlee Simpson's Canadian Weekend
Ashlee Simpson left from LAX on Friday and reappeared in Toronto this weekend. The singer was there as the new spokeswoman for a clothing line called Request, where she went to a Zellers store for their re-launch on Saturday. Ash has dabbled in fashion design before, but at the event she talked more about her future plans, and how she feels about her baby's upcoming arrival. Here are some highlights:
On the baby's arrival: "It's going to be very exciting. I think your mother instincts really kick in the day you find out that you're pregnant and for me, it's been a blast preparing for it, getting the nursery ready and all that. So, we're both really looking forward to it."
On her new hobby, knitting: "I really like to do it (knitting) but I always kind of have a hole in it. I don't have anything made yet for my baby but maybe I will."
To see more photos of Ash's weekend, including a stop at Tony Roma's (ha), and hear what she thinks of singing a duet with Pete and moving out of LA, just
.
On making a duet with Pete: "Pete and I keep our music separate. We collaborate on other things — like making a baby."
On moving: "I would definitely look into moving. We haven't decided where we're going to raise our kid but for the first year we'll stay in California."