Photos and Quote From Kanye West, Who Wants to Redefine "Gay," in March's Details
Kanye Doesn't Sweat the Details as the End-All, Be-All of Music
Kanye West struck a pose for the cover of Details' March fashion issue. He's presently all about checking out the offerings at New York Fashion Week, but he sat down with the magazine recently to chat about his status in the music industry as well as his desire to redefine what calling something "gay" should mean. Here's more: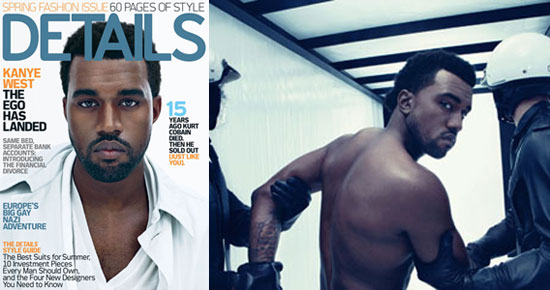 On being a great rapper: "Oh my God, I'm one of the greatest rappers in the world. I'll get on a track and completely ee-nihilate that track, I'll eat it and rip it in half. I wouldn't have to think of it."
On being the voice of his generation: "If not me, then who? Someone could be a better rapper, dance better. But culturally impacting? When you look back at these four and a half years, who's the icon at the end of the day? Who broke down color barriers? What other black guy would a white person use as a fashion reference?"
On redefining the word gay: "Take the word gay — like, in hip-hop, that's a negative thing, right? But in the past two, three years, all the gay people I've encountered have been, like, really, really, extremely dope. Y'know, I haven't, like, gone to a gay bar, nor do I ever plan to. But where I would talk to a gay person — the conversation would be mostly around, like, art or design — it'd be really dope. From a design standpoint, kids'll say, 'Dude, those pants are gay.' But if it's, like, good, good, good fashion-level, design-level stuff, where it's on a higher level than the average commercial design stuff, it's, like, gay people that do that. I think that should be said as a compliment. Like, 'Dude, that's so good it's almost. . . gay.'"
To see more photos as well as what Kanye has to say about his sex drive and what he looks for in a future wife, just read more.
On where he gets his drive: "People ask me a lot about my drive. I think it comes from, like, having a sexual addiction at a really young age. Look at the drive that people have to get sex — to dress like this and get a haircut and be in the club in the freezing cold at 3 a.m., the places they go to pick up a girl. If you can focus the energy into something valuable, put that into work ethic . . . "
On what he looks for in a lady: "What I feel like — 'cause I wanna be married, of course — I feel like the type of girl I would be with is a fellow superhero. So we get that 'already flying and now we're just flying together' thing."
On his status in music: "Put this in the magazine: There's nothing more to be said about music. I'm the fucking end-all, be-all of music. I know what I'm doing. I did 808s in three weeks. I got it. It's on cruise control. . . Man, we talked about music for God knows how long! Now let's talk about how my f*cking sweater didn't come back right from Korea. That's what's interesting me."
Pretty standard stuff from Kanye at this point, but the rapper-turned-designer never fails to entertain.