Photos and Quotes of Ashley Olsen Talking About Not Ending Up Like Britney Spears in Marie Claire September 2009
Gamer Ashley Is Surprised She Didn't End Up Like Britney
We already got a peek at Ashley Olsen's appearance in September's Marie Claire, and now there are more images from her photo shoot, plus quotes from her interview. Ashley talked to the magazine about her love of fashion and the pressures of fame during childhood. She said: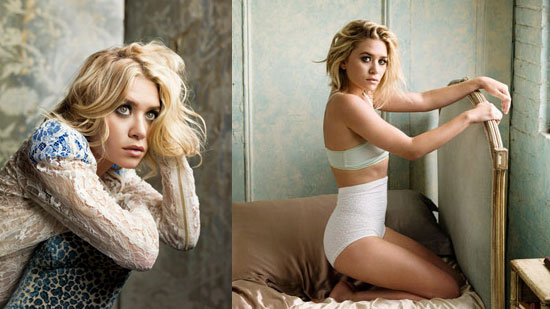 On pressure she and Mary-Kate faced in childhood: "I look back at the things that we did and the clothes that we wore, and I think, 'Wow, we really were troupers.' It was almost like I was in the army. School, work, homework, fly to New York, get in at 2 in the morning, do a morning show at 5 am, then another one at 7, then a radio interview at 10, you know? ... That's why I look at Britney, and I'm surprised I didn't end up like her."
On their fashion sense: "I think you're either born with a sense of style or you're not. Either you care or you don't. And we love fashion. When we were going to NYU, I think that was the first time we were aware of the power of our personal style. Not the power of it, but the result of it. Between the big sunglasses and the Starbucks cup and the big sweaters, the hobo-chic thing, we were more shocked than anything [by the media coverage]. I get it; we were fortunate enough to have really nice clothes, and we put them together in this raggedy way. My mom wears glasses this big"—she mimes massive goggles—"from the '70s, and you wonder where we got it from?"
On winding down with Rock Band and her boyfriend: "I swear to you, [Rock Band's] brought out this whole new thing in me. I can be a very serious person, and I take my job very seriously, but at the end of the day, I need a break. . . [Being able to count on Justin Bartha] — It's more important than anything else in the world."