Photos and Quotes of Ben Affleck in Esquire Magazine
Ben Gives Esquire an Honest Play by Play of His Life
Ben Affleck looks a little worked up on the cover of April's Esquire, but while he did express a few frustrations, in the interview he remained a perfect gentleman. He talks about his new movie State of Play, which opens on April 17, and how he's actually "a pretty boring guy" in real life. Here's more: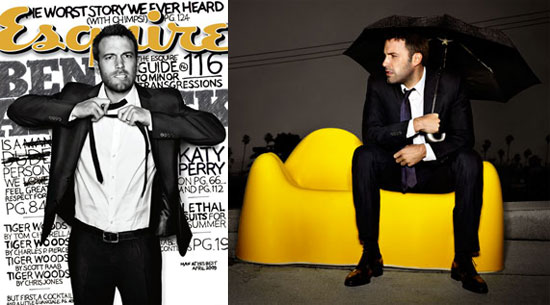 On his personality: "What's the most radical twist — or the most surprising thing about myself — is that none of the stuff you read, none of it has anything to do with me, with my life, my work. I'm a very straightforward, pretty boring guy. And that's just the f**king truth. Because who I am, as a person, in my everyday life, wouldn't sell any magazines. And even when I've been in circumstances like relationships ended, where that seemed like high drama, the truth was much more pedestrian when you got right down to it."
On why he drove a rental to the interview: "The thing about the car is this, I drive you in [my personal] car and you describe it. You notice something I haven't — you pick up on something, some inelegant little smear, or get a glimpse of my daughter's art from school, some little forgotten whatever. And maybe it hurts someone in my family, somewhere, somehow, and then it's like, 'F**k it, the next [reporter] doesn't get in the car.'"
On why he did HJNTIY: "It's four days' work. Four days, you know? Directing, that's years. Years. But four days? You're in, you're out. You know, they asked, and I thought it was a funny script. And I wanted to work with Jennifer Aniston."
On working: "I work harder now than I ever have in my life, because I got a family. I worry about that. Yeah, I worry about the world, but not all the time. Sometimes I'm just really selfish, just like anyone else."
Ben's passionate opinions make it hard to believe he's as boring as he says, but it's sweet to read how important it is to keep his precious family protected and provided for.