Photos And Quotes From Ashley Greene in Maxim 2009-11-10 12:30:22
Ashley Wants to Go From Cullen to Bond Girl
Looks like there's another familiar Twilight face at the newsstand — Ashley Greene struck a sexy pose for the cover of December's Maxim. She participated in another scantily-clad photo shoot recently for Men's Fitness, as she tries to move beyond her innocent image. Ashley chatted with the magazine about New Moon, her career ambitions, and her super famous dog Marlo. Here's more: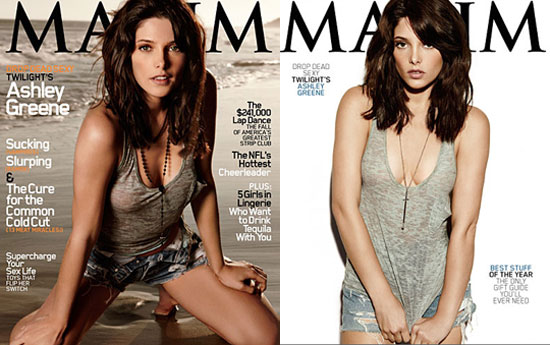 On the Twilight craze: "It's crazy, right? I think my dog is more famous than a lot of stars out there. I bet some people in Hollywood are like, 'I can't get my picture in a mag, but Ashley's pooch [Marlo] does?' It's mind-boggling."
On getting the part of Alice Cullen: "Oh, my God, I wanted this part so badly! I worked my butt off for it because I absolutely love Alice, my character. She's sweet, sexy, and a killer! So when they told me I got it, I tried to play it all cool, you know, for about a minute. . . Suddenly the Twilight blogs started picking it up, and then fans were there taking photos, and I'm on the news, and I was like, 'What?' And then I got really nervous."
On what she'd like to do next: "I want to hit up James Bond. That would be awesome."