Photos and Quotes From Fergie in Allure Magazine
It's Always Bikini Season For Fergie
Fergie flaunts her bikini body on the July cover of Allure. Inside the magazine, she sports a few different bathing suit styles, including this revealing black number. She sat down to chat all about the Black Eyed Peas' new album and tour, her role in Nine, and her marriage to Josh Duhamel. Here are highlights: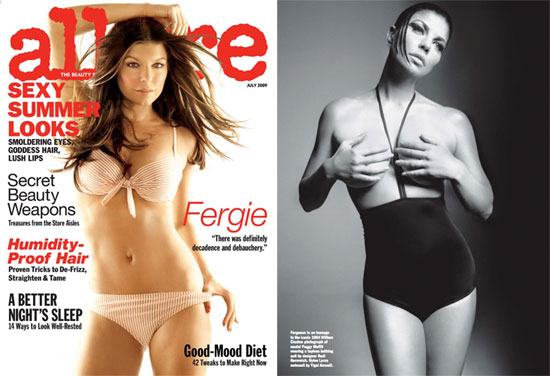 On staying beautiful on the road: "I need structure. I need to get enough sleep. I need to make sure that I'm having regular workouts, and that they put in time for hair and makeup and nails, because I do have to get my nails done . . . I have to get my roots touched up and get facials, because when you're traveling, the skin doesn't look as nice."
On what she and Penelope Cruz ate to gain weight for Nine: "Everything fried and full of fat and salty . . . we were eating our brains out."
On keeping things spicy with Josh: "Oh, girl, I've got a big chest of fun little numbers, ones that I would never wear in public."