Photos And Quotes From Jared Leto in Nylon Guys 2009-12-09 14:00:00
Jared Leto Is Just One of Those Hot Sauce Guys
Jared Leto has a lot to say about his band, 30 Seconds to Mars, in the upcoming issue of Nylon Guys. He showed off his modeling skill for the cover, and inside the magazine he also did his thing in a variety of outfits. He's got a new album to promote called This Is War, which features a catchy collaboration with Kanye West. Jared talked about more than just music, also opening up about his past and his interesting predilection for hot sauce. Here's more: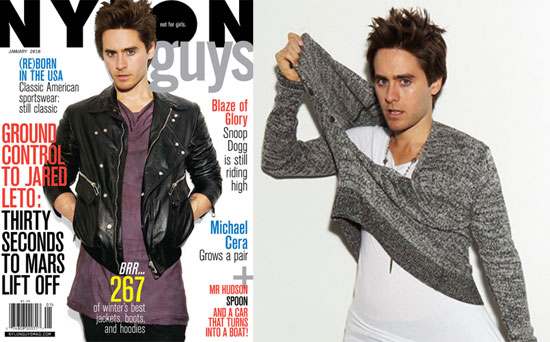 On his expectations: "I thought art would be my life. It was either that or selling drugs. I always had an aversion to being part of some corporate structure or working in a clearly defined job. I like to explore different things.
On his childhood: "I was born a poor white-trash boy. . . We were vagabonds, and I had a peripatetic childhood; our mother brought us on her journey of escape from the oppressive nature of the South. . . It's been a journey of dreams, but it's also been heartbreaking and challenging."
On his food obsessions: "You know how sometimes you can't stop eating hot sauce? I'm in one of those phases now."