Photos and Quotes From Kate Winslet's Parade Magazine Interview About Leonardo DiCaprio
Kate Winslet's Husband Keeps Things Exciting With Leo
Kate Winslet glows on the latest cover of Parade Magazine and brings her refreshing candor to the interview as she promotes Revolutionary Road. Kate opened up about what it was like working with Leonardo DiCaprio after all of these years and how her husband helped keep their chemistry natural. Here are some highlights: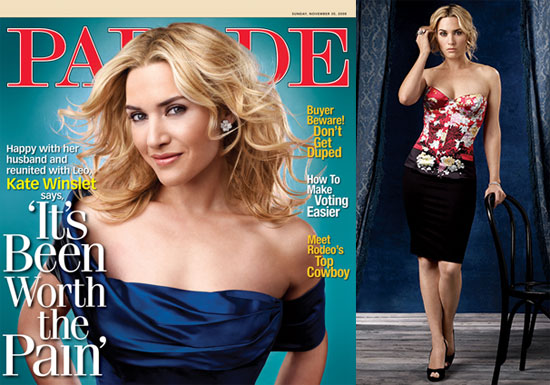 On working with her husband and Leo: "Sam would try to surprise me or surprise Leo when we were doing scenes together, and because Leo and I do have sort of an almost telepathic connection, because we've known each other for such a long time and have remained friends consistently over all of these years, I know how Leo thinks, I know how he works, as he does with me. Sometimes, in order to just twist the scene around, Sam would quietly say to Leo, 'Just surprise her; try this thing.' Or he would come to me and say, 'Try this -- don't tell him you're going to do it.' So he would have to do that, so that Leo and I were able to keep it fresh and alive."
On how she and Leo have aged onscreen: "I'm like, 'Yes, damn it! Look at those foreheads move!' I mean, he has this amazing furrow here"—she points to a spot between her eyebrows—"which wasn't as prominent then, and this"—Winslet points to the wrinkles on her own forehead—"is much more prominent in me now. I just love seeing those things. I am enjoying my face changing, as well as realizing that at the same time, as you get older, the machine isn't as well-oiled as it was."
On Halle Berry's recently saying, "Kate Wins-let is always naked, sitting on a toilet, or running buck naked. She's free. I want to be the kind of actress who can really be comfortable with my body like that.": "Oh! That's so amazing. That is worth the pain! I am thrilled to hear someone like Halle say something like that. But what I would want to say to her is, 'Well, you can,' because all I do is say, 'I don't give a ____!'"
We can't wait to see if the chemistry is still there between Kate and Leo but considering the talent between those two, we can count on a fabulous film.