Photos And Quotes From Kirsten Dunst in Allure
Kirsten Dunst Opens Up About All the Good Things
Kirsten Dunst got back to nature for the cover of December's Allure. She's out and about discussing her upcoming film with Ryan Gosling, All Good Things, which we caught a lot of them filming last year in NYC. Kirsten sat down to chat about her occupation, her thoughts on Twilight after starring in Interview With the Vampire, and her romantic status. Here's more: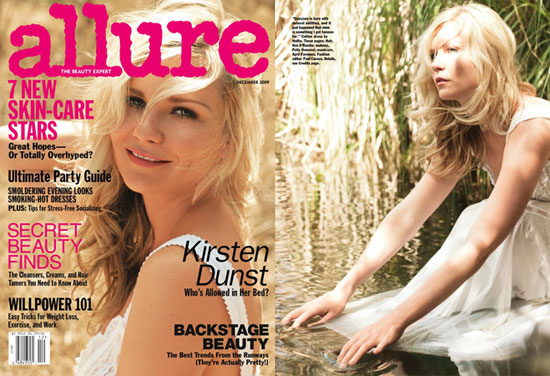 On loving vampires: "I watch True Blood. I love vampire stuff—it's sexy. There's a danger element, and it's sensual, what they do. I love the movie Twilight. It satisfies the 14-year-old girl in you."
On being born an actress: "A kid doesn't come out being, like, 'I'm going to be an actor' . . . I think everyone is born with natural abilities, and it just happened that mine is something I got famous for."
On her ex, Jake Gyllenhaal: "It would be nice to see him, but we're not good friends."
On her current romantic status: "If I had a beau now, I wouldn't say. Until I'm married, and even then, why?"
There are lots more photos from behind-the scenes, and make sure to check out Kirsten's style evolution before the issue hits newsstands.