Photos and Quotes From Lindsay Lohan to Access Hollywood Talking About Aspiring to Be Britney Spears
Lindsay Discusses Her Past Britney Spears Aspirations
Lindsay Lohan went shopping around NYC in an orange sweater yesterday before she hit up Bloomingdale's for Fashion's Night Out, where Gwen Stefani also chatted with us at her store appearance. LL has been silent on Twitter ever since her public rant about Samantha, but she did grant a recent interview about her new artistic adviser role at Ungaro. She told Access Hollywood she's nervous about her upcoming show in Paris and also opened up to them about living her life in the spotlight and how she used to desire fame. Here's more: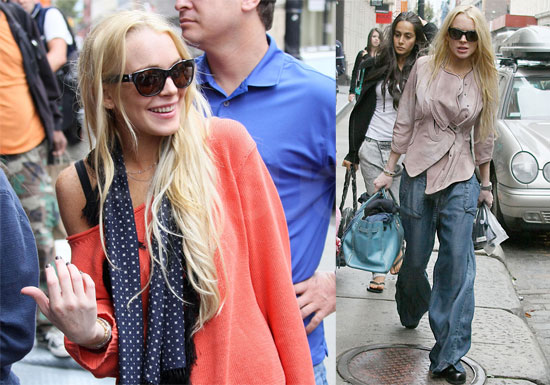 On growing up yearning for the spotlight: "Everyone goes through tough times and the second that I decided I wanted to be in front of the camera . . . I think I've always kind of aspired to be like Britney Spears in the tabloids when I was in middle school. It's kind of something you sign up for in the beginning and if you really want it, you know that comes with it."
On dealing with fame: "There are times when it does affect me. When I'm having a bad day or dealing with something personal that is no one else's business but they're going to spin it anyway. If I make the wrong face and I'm having a really great day, they're going to say something negative anyway. I know that I'm a target and I know that I've given people a lot of reason to kind of run with things that have been said. I no longer intend on doing that, but I'm not perfect."
On whether she has regrets: "There are things I would like to take back and I always say that, but there aren't many things that I regret doing, because I wouldn't have learned from them, and I wouldn't be where I am today. I think it's taken me a long time to learn how to love myself before I could love someone else too. Whether it be a best friend or family or someone that I'm in a relationship with."
To see more of LL just
.