Photos and Quotes From Mad Men's January Jones in August 2009's Interview Magazine
January Has Got Interview Covered For August
January Jones struck a few moody poses for next month's Interview magazine. The issue coincides perfectly with the return of Mad Men on Aug. 16, and she sat down with none other than Jack Nicholson to chat about her name and success. Here's more: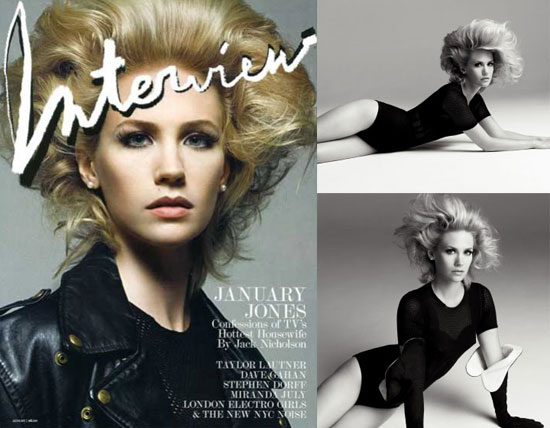 Discussing with Jack why she picked him to do the interview: "Because after you called me to say that you appreciated my work in the first season of Mad Men, you said that I shouldn't do too many interviews because the show is going to get bigger. So I thought it was ironic that you agreed to do this one."
On her name: "It's from a book called Once Is Not Enough by Jacqueline Susann. Bad book. . . They made the book into a TV movie and my dad watched it with [my mother]. My dad liked how January went with Jones. My sisters' names are Jina and Jacey Jones. . . People think that I changed my name. I could've been an actress, a superhero, or a stripper."
On her idea of success: "Well, success for me is to feel happy — 80 percent of the time. That's been my goal in life. I think that comes from my father. He's a very optimistic, happy person. I'm not quite sure if I'll ever feel this, but I want to know how to be happy. I'm happy when I'm at work. I'm happy when I'm with my family or my dog. But, you know, there's always that feeling of, I'm not satisfied. I have that thing in my stomach where I just need to keep striving for things. In my mind, I want the fairy tale."
To see a behind-the-scenes video of January, just read more.