Photos and Quotes From Megan Fox in Rolling Stone Talking About Stabbing Brian Austin Green
Megan Has a Hot Temper and Knows the Power of Her Body
Megan Fox wears her signature pout and shows off her body on the cover of Rolling Stone's October issue, striking a few sexy poses during her photo shoot. She hasn't shown any signs of fatigue as she continues to promote Jennifer's Body, which features a girl-on-girl makeout scene Megan admits is gratuitous. The actress is known for her slightly ridiculous remarks to the press, and she doesn't disappoint in this interview — she talks about stopping herself from stabbing Brian Austin Green. Here's more: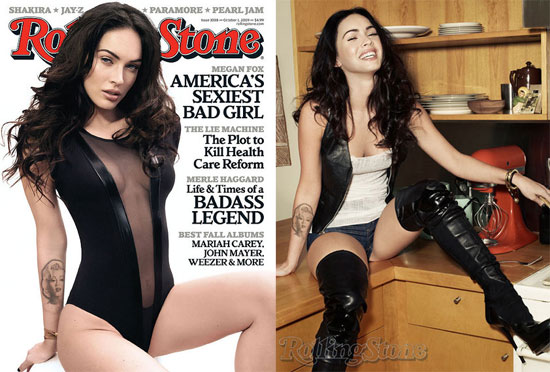 On her bad temper: "My temper is ridiculously bad. I've had to say to Brian, 'You have to go and stop talking to me, because I'm going to kill you. I'm going to stab you with something, please leave.' I'd never own a gun for that reason. I wouldn't shoot to kill. But I would shoot him in the leg, for sure."
On the secret to her seductive qualities: "[My secret is] a powerful, confident vagina. Men are scared of vaginas. [A woman is most powerful when she is] completely in charge of her sexuality."
On her public persona vs her true self: "I don't really want to share myself with the public. I want to deflect attention from my reality."