Photos and Quotes From Reese Witherspoon's Parade Magazine Cover Talking About Marriage
All Reese Witherspoon Needs Is Love, Not Marriage
Reese Witherspoon looks wholesome on this week's cover of Parade magazine. The actress has been promoting Four Christmases and talking a lot about her family life as well as showing off her inner country girl charm. We love Reese's honesty and in this interview she talks about her divorce from Ryan and how she feels about marriage now that she's in a serious relationship again. Here are some highlights: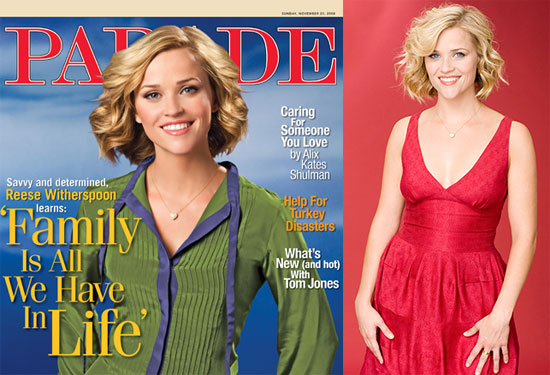 On marriage: "Family is all we have in life, but I don't know how I feel about marriage. Obviously, I'm not far enough out of being married to think about doing it again. You sort of reconstitute your family. You find a family, with people who come into your life for a reason."
On divorce: "There are things in my life that are hard to reconcile, like divorce. Sometimes it is very difficult to make sense of how it could possibly happen. Laying blame is so easy. I don't have time for hate or negativity in my life. There's no room for it. When you make wrong choices, you have to take responsibility for them: 'What part of this do I own?' I struggle to figure out what made me make those choices. All I can hope for is that I've learned something from it and won't make the same choices again."
To see more photos and hear what Reese has to say about love as well as comments about her personality just read more.
On wanting to be understood: "I feel like I am seeking understanding. Popularity is not part of it. Popularity is literally about behaving the right way and saying the right things. To me, that was easy. But I wanted to be understood. I still feel like no one really knows me."
On her celebrity status: "The biggest detriment of my life is tabloid fame, it removes me from people. When I first meet someone, it is so hard for me to overcome everything they've read about me. It's not fair. It's difficult, because I'm the kind of person who just wants to hug people."
On love: "Do I need men? I don't think it's about needing men. It's about love. Everybody needs love. Everyone deserves it. [...] I definitely still have a capacity to love. [...] Things change but your ability to love remains intact. Oh, I have a lot of hope for love! I do!"
Reese has always seemed like a sweetheart and her optimistic nature really shines through and hopefully thanks to Jake she can do more than just hope for love.