Photos and Quotes From Sarah Jessica Parker in Harper's Bazaar
Sarah Jessica Dresses Up and Everyone Signs Onto SATC2!
The closest Carrie Bradshaw got to magazine editing was writing freelance for Vogue, but inside the March issue of Harper's Bazaar Sarah Jessica Parker channels the look of legendary editor of both publications, Diana Vreeland, for a photo shoot. SJP sat down to chat about her new trio of upcoming fragrances, her family and her fashion. Here's more: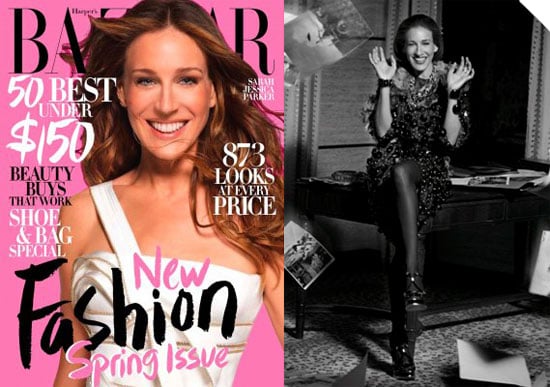 On fashion: "I don't have the Carrie Bradshaw passion and devotion to it, but I would much prefer that life would allow for a beautiful shoe all day long. To stand in Mr. de la Renta's atelier and have him build a dress on you, that is amazing. And honestly, it's a great honor to be able to borrow something that weighs 40 pounds and requires three people to help you walk."
On what she can't live without: "My son! My husband! Food! Oh, fashion? I don't know. A good bra?"
On regretting her black wedding dress and wanting to wear white if she gets a do-over: "I'm not kidding. White it up. I'd wear a beautiful, proper wedding dress, like I should have worn on the day. James Wilkie's teacher is getting married, and he said, 'Do you think she will be wearing black?' I said, 'No! I can almost assure you.' Then he said, 'Do you still regret it?' and I said, 'Yes, I still regret it.'"
Some advice from SJP: "Don't surround yourself with bodyguards and SUVs, and return everything you are loaned in the shape in which you received it — unless you have to cut yourself out of it! Return jewelry, return bags, clean out the bags! I would say, try to be kind. I know what it's like to get up the courage to approach somebody, to tell them how much you admire them. Why don't you . . . be decent?"
SJP is focusing on her fragrances at the moment, but she'll soon get back into Carrie's couture as she and the other ladies of SATC just officially signed on for the sequel!