Photos And Quotes From A View From The Bridge Stars Liev Schreiber And Scarlett Johansson in TimeOut
Scarlett and Liev Take a Little Time to Enjoy the View
Scarlett Johansson and Liev Schreiber are attached at the hip these days as they get ready for the opening of their new show, A View From the Bridge, on Broadway. It's Scarlett's first time performing in the famous theater district, but she doesn't seem too nervous just yet. She opened up to the magazine about her anxiety and fears, as well as about her New Year's Eve plans and if she and Ryan have plans to double date with Liev and Naomi. Here's more: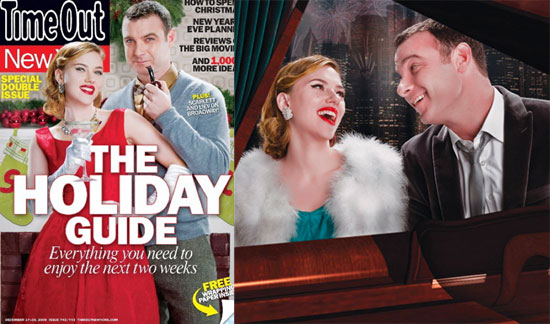 On being not nervous: "That's only my ignorant bliss. [Laughs] See, [Liev knows] what's to come. I'm that idiot that you lead into the room, being like, 'What's going on? What are you all so nervous about?'"
On her biggest worry about the show: "The only thing that worries me about that is that I wouldn't have the opportunity to work again. I've been praised, criticized and dragged through the dirt for 17 years. It would be heartbreaking, but what else can I do? Not go there?"
On if she and Ryan will double date with Naomi and Liev: "We have no time for dates. We work and then go home and — I, anyway — just stare at the wall for a few hours before I go to sleep."
On her and Ryan's plan for New Year's: "We're working. On New Year's Day, at least. So, probably not much. You know, pizza would be nice. A little champagne. Maybe watch the Twilight Zone marathon. That's always a favorite for me. . . Going from one party to the next and surfing to find the right thing, and being in a taxicab when the clock strikes — I'm so over that stuff. At the ripe old age of 25. I have the most fun when I'm surrounded by people I love in one place that's comfortable and we can hear each other. You can play card games, watch movies, I'm happy. So, you can find me at da club with a bottle full of bub is what I'm trying to say."