Photos And Quotes From Winona Ryder in BlackBook Magazine
Winona Shares A Lot About Her Private Life
Winona Ryder sat down for a photo shoot and chatted about her life in the latest issue of BlackBook magazine. She has a film, The Private Lives of Pippa Lee to promote, but Winona had plenty of other things to discuss. Winona talked about a variety of topics, from her famous exes like Matt Damon and Johnny Depp to her feelings about Angelina Jolie winning the Oscar for Girl, Interrupted. Here's more: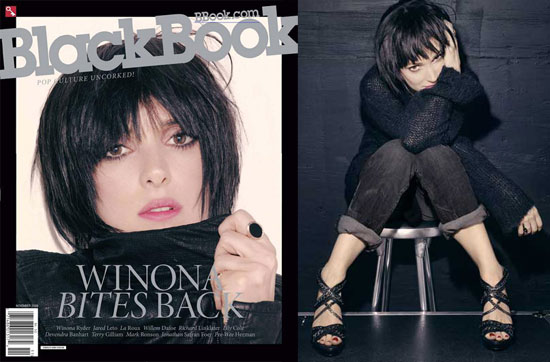 On dating Johnny Depp: "Things changed for me when I met Johnny. This weird thing happens when you're written about in magazines, where you start to think, 'This is who I am. This is how I have to be.' I felt restricted and pressured into being the way people perceived me. It was hard for me to find my footing. The Johnny thing made me really afraid of the press because, even though it was about him, I was beside him the entire time."
On her relationship with Matt Damon: "Matt couldn't be a greater, nicer guy. I'm really lucky that I'm on good terms with him. . . With Johnny, it's like we're good, but we lead very different lives. I was out at a bar with a friend who said, 'Do you realize that in America you're never going to be able to meet a guy who knows nothing about you? Everyone will have preconceived ideas about who you are.' I got so bummed out. I'd never really thought about it that way."
On knowing Angelina Jolie since Girl, Interrupted: "I never had any bad feelings about Angelina. . . And I was hurt that people thought that. Everyone assumed I was really jealous because I thought this would be my vehicle. . . We said from the very beginning that the actress who played Lisa would probably win an Oscar, because it was the big, great, showy part. But I always related to Susanna. I fought very hard for her to have that part, and I never really felt like I got the chance to know her."