Photos and Quotes of James Franco in BlackBook Magazine
James Franco Is Super Hot in Our Book
There's been lots of love for James with all the critical acclaim surrounding Milk, and he recently opened up a little more about the experience of working with Sean Penn. He's also looking sexy on the cover of December's BlackBook, chatting with the magazine about going back to school — he's working on master's degrees at both NYU and Columbia — as well as his career and his past. Here's more: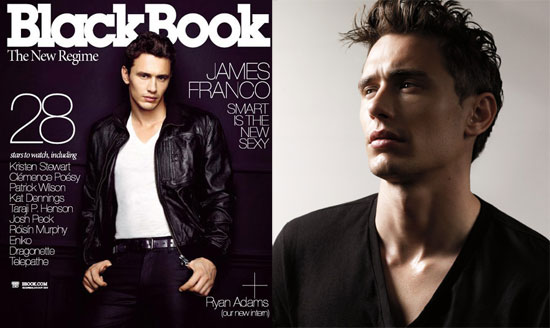 On the unexpected success of Pineapple Express: "I find it ironic that I did a lot of serious movies that I worked hard on, and now I'm getting the most response to the movie where I roll a cross joint. The m.o. on that set was to have fun."
On his looks: "When I was in sixth or seventh grade I remember thinking that I wanted to be really buff, and work out a ton. That seemed really attractive to me. And now, I f*cking hate to work out. I hate spending time on anything physical like that. . . In the morning, I throw some kind of gunk in my hair."
On being a bad boy in high school: "I had to stop hanging out with a certain group of people, because I got in so much trouble with them. For some reason, I was like a magnet for the police. I would get caught for the stupidest things. . . wandering around drunk, stuff like that. They weren't the worst people in the world, it was just that I was really dumb when I was around them."
To see more photos of James and what he has to say about school and learning to lighten up read more
On going back to school: "Going back to school has been life-changing and life-saving. I wasn't on the point of suicide, but I wasn't satisfied."
On getting personally involved in his work: "Movies have their own rewards for an actor. You can feel satisfaction for doing a movie that you believe in, or with critical praise, or good box office. As an actor, you can tell yourself that your self-worth isn't measured by how your last movie did at the box office. But I found when acting was all I had, inevitably I would be emotionally affected by how well a movie did."
On lightening up: "I think I'm hopefully a much easier guy to be around with on set now," he says, "just because a) I think I'm more communicative and b) It doesn't always have to be doom, gloom and pain every second of the shoot."
James seems to be a little more introspective than the average actor, but it's great to see he's learning to enjoy some of the perks of his increasing fame.