Photos and Quotes of Jennifer Aniston Braless Talking About Lonely Girl Status in Elle September 2009
Jennifer Shows Sexy Skin & Embraces Her Lonely Girl Status
Jennifer Aniston struck some hot poses and showed off her abs for Elle's September issue. The actress opens up to the magazine about the "brick walls" she had to break through during her childhood, and addresses her label as "the lonely girl." Here are some highlights: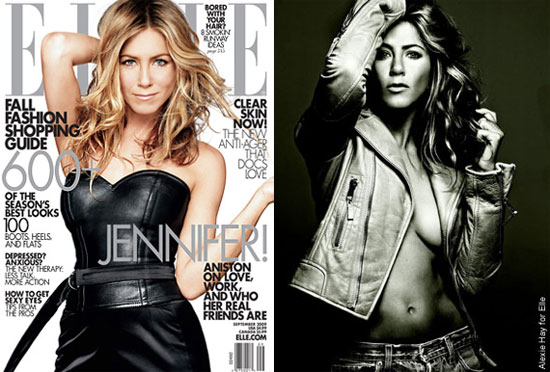 On being labeled the "lonely girl": "I'm not going to ignore the pink elephant in the living room. It's fine. I can take it. [I'm fully supportive of] anybody who is in a place that's not their strongest [but] is ready to push forward. If I'm the emblem for 'this is what it looks like to be the lonely girl getting on with her life,' so be it. I can make fun of myself. And I'll bring it up as long as the world is bringing it up."
On her mother's honesty: "I remember being 7 and asking my mom if I was as pretty as [my best friend] Monique. And with all the love in the world, my mom looked at me and said, 'Oh, honey, you're so funny.' So, she doesn't lie to me . . . She answers the question by not answering and instead tells me what she thinks is my greatest strength."
On her parents marriage: "[My parents made each other laugh] like nobody's business. I put a lot of value in that at a very young age. [The hardest part was] my dad walking out and not seeing him for a year and not knowing where he was . . . Trying to understand, 'Where did that person go?'"
We love hearing Jennifer's refreshing honesty and stay tuned for more photos and quotes from the article soon.