Photos and Quotes of Natalie Portman in V Magazine
Natalie Portman Talks Sex and Nudity in V Magazine
Natalie Portman rocks a pompadour for a stylized shoot in the Winter's V Magazine, which hits newsstands today. She made her directorial debut this year with New York, I Love You, but in this issue Natalie chats about Brothers, her first on-screen sex scene, and how she hopes to maintain her youthful appearance without going under the knife. Here's more: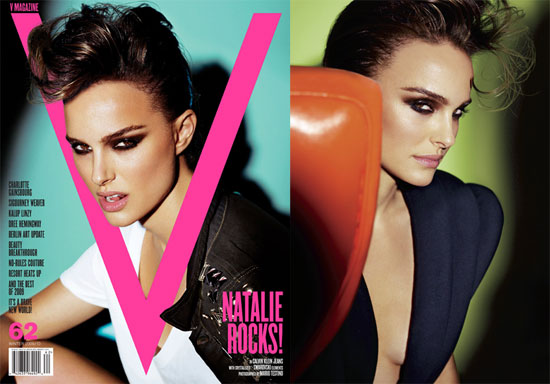 On why she waited to do a sex scene: "I was figuring out my own sexual identity, likes and dislikes and all that stuff, and it's weird to be doing stuff on film as you're figuring it out. Also being a sexual object when you're a kid is really uncomfortable. After The Professional, I was already getting creepy letters. It's annoying because online bullsh*t interferes with what I want to do artistically. I'm not opposed to sexuality or nudity in a film, but I'm very opposed to pornography sites and you're pretty much giving them material if you do any of that. It's always a big dilemma for me."
On keeping her personal life personal: "The formative time of my public image happened before there was Facebook, Twitter, all of those gossip sites. I had my own drunken nights and dating a million people, but there wasn't that attention then."
On maintaining beauty: "You see people who were stars five years ago and already they're waning. As actresses approach 40, it starts becoming really, really difficult."
On being successful: "To be successful you need the desire to be successful. Ambition can be a dirty word, but it's pretty much more important than anything."