Photos and Quotes of Tom Cruise on the Cover of Details Magazine Power Issue
Tom Cruise's Power Is All in the Details
Tom Cruise looks like his Color of Money character with his powerful stare on the cover of Details magazine. John Mayer, Robert Downey Jr., and Nick Jonas all made this year's "Power List" with Tom at No. 7 spot as Leading Man. Tom talks about controversial Valkyrie and what he has in common with his character. Here's more: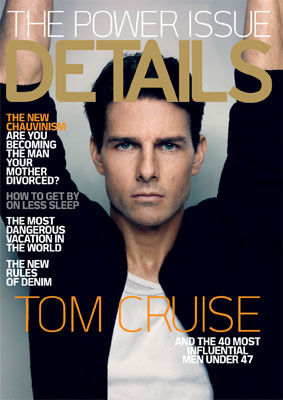 On why he chose the film: "When you make people reconsider something that they're so certain of . . . I found it very compelling. It's the reason I'm doing it. When I was a kid, we'd play war, you know, and it was always 'Kill the Nazis.' I wanted to kill Hitler. [. . .] It's about doing the right thing, but also about finding out what the right thing is. You know what I mean? I do feel that this movie was the right thing to do . . . I love movies. Yeah, man, I love movies!"
On people criticizing the movie: "There's always someone telling you not to make a movie. When I did Born on the Fourth of July, they said, 'This is going to ruin your career. What are you doing?' Suicide? I've committed it. There were people who didn't want me to make Top Gun."
On whether he relates to his character: "Certain decisions at points in my life . . . I absolutely related. Stauffenberg went from saying, 'Someone should shoot that bastard' to realizing, I'm the only one who can do it. You can't really know until you're under that kind of pressure. I'm not saying this in some chest-pounding way, but I do feel I'd have that kind of courage."
Tom Cruise sounds passionate about his new movie, which opens up Dec. 26. It may not seem like cheery holiday fare, but it will be a typically action packed Tom Cruise film.