Photos and Quotes of Victoria Beckham, Who is Debuting her New Dress Collection
Victoria Is Dressed to Impress and Sell Dresses in the UK
Victoria Beckham arrived in London today transported by an Air Harrods helicopter. Surrounded by friends, Victoria was definitely showing off some of that street style she's famous for, looking ready to make appearances in the UK to promote her dress collection. She recently granted an interview to chat about her line, opening up about her well-mannered boys, her career, and her famous American pals. Here's more: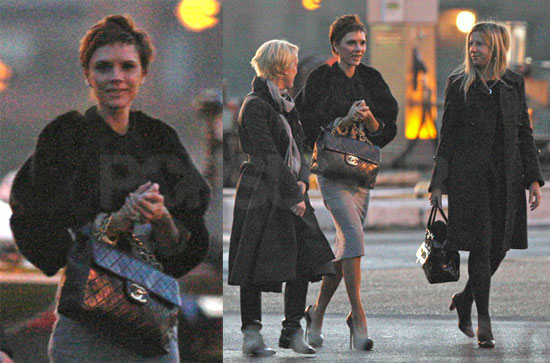 On getting ready to debut her collection: "I was so nervous that for days before I drank loads and loads of water. God, I'm square."
On avoiding rumors: "I'm just really happy. I wake up every morning and I think I'm so blessed. I don't read the stuff that's written about us. I'm not interested in gossip. Some of the people that I'm friends with in America — you know, Tom and Katie — they get it too and we laugh about all these stupid things."
On doing things her way: "I don't really care what people think. I never made friends easily. For years, when I was in the Spice Girls, those were my four best friends and we stuck up for each other. Now I've got David. Nothing has ever come particularly naturally to me. It's made me a hard worker and very disciplined. I get that from my dad."
To see more from Victoria's rainy day, and what she says about her design process and her career, just read more
On her career's evolution: "Being in the Spice Girls, fashion-wise probably didn't open any doors. If anything it shut doors and I've had to bang them down."
On her design process: "I put it all on myself and walk around in it, and I know what feels comfortable. I know how a dress should sit. I've worn so many in the past and when I see the photographs I think, crikey, my boobs are up round my neck again because the corsets are too short and not cut high enough. Like I knew I would spend a lot on the best-quality zips because, like many women, I've had my share of crappy zips. I wanted a zip that undoes from both ends because then you can either put the dress on over your head or, if you don't want to mess up your hair, you can step into it — and also, you know, going to the loo wouldn't be this whole big palaver."
It's always a treat to hear Victoria open up about her family and friends, and it's great to hear her cracking jokes and being her fun self. With her boys in LA and David in New Zealand, it looks like she's got lots of friends around to keep her happy and busy while she's in the UK.