Photos, Quotes, and Videos From Robert Pattinson and Kristen Stewart in Harper's Bazaar
Robert and Kristen Share Their Chemistry With Harper's Bazaar
We got a peek at Robert Pattinson and Kristen Stewart's romantic spread in Harper's Bazaar yesterday — ICYMI, check out the amazing outtakes of Rob and Kristen here — and now the full interview is out along with a few new photos. The duo is currently apart promoting New Moon on opposite ends of the globe, with Rob most recently in Japan and Kristen in Mexico with Taylor Lautner. In this interview, though, they were very much in the same place as they discussed romance, relationships, and compared each other in a variety of ways — there's also a video from the shoot after the jump. Here's more: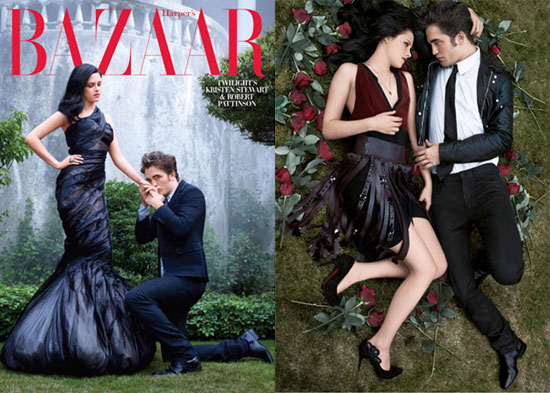 Robert on his audition: "I was calm and collected, and then we do this thing where we're pretty much making out. I've since tried to do it at another audition, but it completely just collapsed. Kristen was very different from how I expected the girl who played Bella would be. I was kind of intimidated."
Kristen on who's more romantic, her or Robert: "I have a no-bullsh*t detector, so I'd have to say Rob is. I think romance is anything honest. As long as it's honest, it's so disarming."
Robert on how most of his relationships end: "Eventually, the girl is like, 'I know it's got nothing to do with me. You're an . . . idiot.'"
To see Robert and Kristen talking about who's more egotistical, superstitious, and self-Googling, as well as a video, just read more.
Robert on whose ego is bigger: "It's kind of a tie. We're both pretty proud people. Her ego is more solid than mine, but mine has soared to such peaks, it's ridiculous. Mine's more erratic, but it can get to a point when it's, like, godlike. Only in my eyes, of course. Sometimes just when I say hello the right way, I'm like, Whoa, I'm so cool."
Kristen on who Googles themselves more: "Rob."
Robert on who Googles themselves more: "She would say me, but I reckon it's her. If either one of us catches the other one doing it, we're like, Jesus Christ, is that what you're looking at? And the other one's on their phone pretending to text. I look up my competition more than she does. I'm incredibly shallow. I think she just looks at herself."
Rob on who's more superstitious: "I am. I believe a lot in karma and stuff. Like when I end up with egg on my face, I'm like, Fate! I was born doomed. But I think it's more being an idiot than superstitious."