Photos and Quotes about Pregnancy from Jennifer Aniston in Entertainment Weekly
Jennifer Gets Fresh About the Pregnancy Rumors
Jennifer Aniston is on the cover of the latest Entertainment Weekly, posing with a canine companion in the spirit of Marley & Me. She's been extremely open about her personal life over the past few weeks, and she kept that up by using her interview to respond to all the recent pregnancy rumors. Here's more: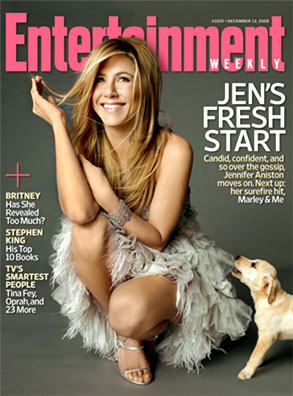 On the rumors: "Oh my God, it's hysterical. It's almost going to take away the fun from actually being able to say one day, 'I'm pregnant!' Everyone will be like, 'Yeah, right.' It's the boy who cried wolf. Stop stealing my thunder, motherf---ers!"
On Vogue's spinning her Angelina comments: "I was just surprised that Vogue would go so tabloid . . . I was bummed. But you almost expect it. Big deal. Done. Next."
On getting pregnant: "I'm on the verge of it in some way — or it's something I long for."
Her desire to get pregnant could explain those recent doctor's appointments, but even if she and John Mayer are getting more serious, we'll wait to hear the exciting truth directly from the source.