Photos and Quotes from Brad Pitt in Wired Magazine; Says Don't Take Your Phone in the Bathroom or Take Photos of a Wife's Butt
Brad Pitt Gets Wired, Says No Phones in the Bathroom
Brad Pitt is no stranger to the cover of a magazine, but next month he's popping up unexpectedly on the cover of Wired. We're sure to see and hear lots from Brad in the run up to Inglourious Basterds's release on August 21, and he's kicking things off with this tech-themed interview. He said: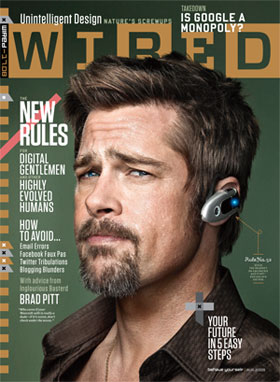 On Twittering photos of your wife's butt, like Ashton: "Don't take a picture of your wife's butt. That's silly. Take pictures of other people's wives' butts."
On dating online: "Everyone lies online. In fact, readers expect you to lie. If you don't, they'll think you make less than you actually do. So the only way to tell the truth is to lie."
On using the phone in the bathroom: "No, you can't talk on the phone! Do you want the guy next to you to hear your entire conversation? That's why you should only text in the bathroom. Just be sure you don't hit the wrong button and end up putting a photo of your junk on Twitter. Trust me, you don't want those followers."


Brad did once say he wasn't able to operate a computer, but it seems like he now knows a thing or two about going online.