Photos of Reese Witherspoon, Deacon Phillippe, Matthew McConaughey at BCS Championship Game in Pasadena
Matthew and Reese Are Both Raising Mini Longhorns Fans!
Matthew McConaughey took a break from helping Camila take care of baby Vida and headed to Pasadena yesterday to watch his beloved Longhorns play in the BCS National Championship Game. He met up with Reese Witherspoon, who spent the day sporting team spirit of her own, and Deacon decked out in orange. Both Reese and Matthew grabbed a beer for some tailgating before kick off. Little Levi didn't get to tag along, but was full of spirit on a walk with both his grandmothers in Malibu. Unfortunately for the Texas fans, the game didn't go their way and Alabama took home the title. MM's been known to be a regular sports lover and athletic Reese looks right at home showing Deacon the excitement of the big game.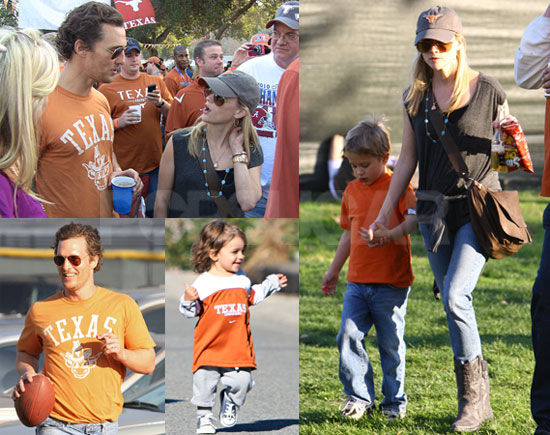 More Matthew and Reese at the BCS National Championship Game so read more.