Photos of Rihanna, Catherine Zeta Jones, Stella McCartney, Tyra Banks at Glamour Women of the Year Event in NYC 2009-11-10 07:45:00
Rihanna Leads the Way With Amazing Women For Glamour
Rihanna stole the show in her dramatic white dress as she and her fellow honorees took the red carpet at last night's Glamour Women of the Year celebration in NYC. Carnegie Hall was brimming with beautiful ladies from Iman to Maria Shriver and Diane von Furstenberg. Catherine Zeta-Jones stood out in blue and had Michael Douglas by her side for support. Rih was just one of a handful of women who were chosen by the magazine, but all eyes were on her — and most of you are loving the look, just the latest in her fashion metamorphosis!
Padma Lakshmi showed off her growing baby bump while one of the evening's honorees Stella McCartney smiled big with her award up on stage where she also had some trouble with her super short skirt. Amy Poehler and Michelle Obama were two of the magazine's other women of the year, though the First Lady didn't attend the event since she was with her husband President Barack Obama visiting with families at Fort Hood. The night was full of inspirational and important females who spoke and mingled, celebrating each other and Glamour's picks. Rihanna has come out strong opening up about her difficult year and what all this means to her – check out Rih's heartfelt speech after the jump.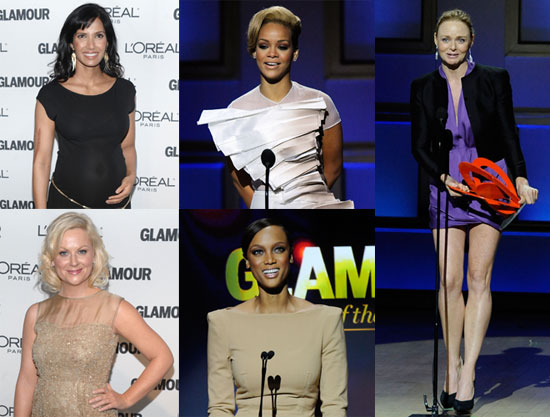 LOTS more photos of Glamour Women of the Year Party and video of Rihanna on stage so
.
Images include: Rihanna, Serena Williams, Katharine McPhee, Padma Lakshmi, Amy Poehler, Zoe Kravitz, Lisa Ling, Laura Ling, Estelle, Stella McCartney, Kerry Washington, Steven Tyler, Andie MacDowell, Michael Douglas, Catherine Zeta-Jones, Maria Shriver, Tyra Banks, Katie Couric, Matt Lauer, Iman, Maya Angelou, Bill Clinton, Yoko Ono, Diane von Furstenberg