Photos of Robert Pattinson at JFK After Remember Me Premiere in NYC
Robert Pattinson Shows American Spirit and Heads Back to London Soon After Kristen Departs!
Just a few hours after Kristen Stewart departed from JFK, Robert Pattinson had his own flight to catch out of the same airport. Robert squeezed in four days of press promoting Remember Me on a short break from filming Bel Ami in London, where he's headed now. He filmed interviews with a variety of shows from The View, where talk became decidedly awesome talking about sex scenes and lady parts, to The Early Show where we admired his many faces. One of the objects of Rob's affection, Betty White laughed off his comments about her sex appeal, after his main lady Kristen made so many fans happy by showing up at his premiere and afterparty. We were there to chat with Robert on the red carpet and share our top ten moments from the night.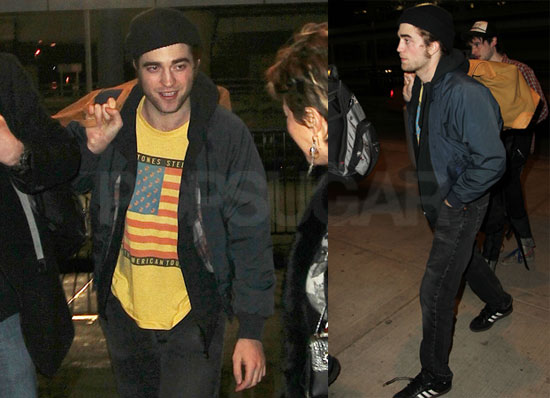 More photos of Rob so
.