Photos of Robert Pattinson and Kristen Stewart Leaving Vancouver After Wrapping Up Production on Eclipse
Robert Pattinson and Kristen Stewart Spotted Leaving Vancouver Together!
Robert Pattinson and Kristen Stewart finished up work on Eclipse and ducked out of Vancouver together today. The duo were the last two in town with the director David A. Slade, who twittered that they wrapped up at 4:30 a.m. No rest for the weary, however, since Rob and Kristen are diving right into promoting New Moon before its Nov. 20 release. Twilight fever is everywhere these days from — the restaurant world to our very own TwilightSugar! Plus great news — theaters will be rereleasing Twilight the day before New Moon hits theaters! The two played it coy for the cameras as usual, but it's always a treat to see Robert and Kristen . . . especially when they're traveling together, as they're bound to do over the next few weeks of premieres and TV appearances around the world.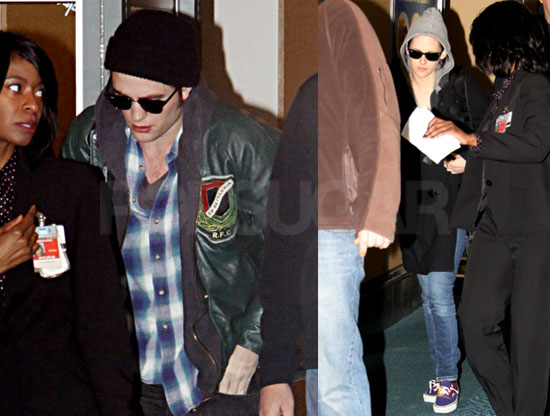 More photos of Rob and Kristen so read more.