Photos of Robert Pattinson, Kristen Stewart, and Taylor Lautner Filming Eclipse in Vancouver
Robert and Kristen Are Ready and Set to Hit the VMAs!
Robert Pattinson and Kristen Stewart were out on Tuesday in Vancouver as Edward and Bella on the set of Eclipse. It's our first peek at the duo at work together on the film, though we have seen them spending their off hours side by side. They were joined by Taylor Lautner, who rode his motorcycle with Kristen's stunt double. They're all plugging away at their latest installment, but Robert and Kristen will be out supporting the first two at Sunday's MTV VMAs. One of the songs from the Twilight soundtrack, Paramore's "Decode," is up for Best Rock Video — make sure to check out all the nominees. Plus, they'll introduce another preview of New Moon and premiere Death Cab For Cutie's song for the film, which we got a taste of this week. We'll be covering the red carpet live from Radio City Music Hall and watching out for one of our favorite Summer couples.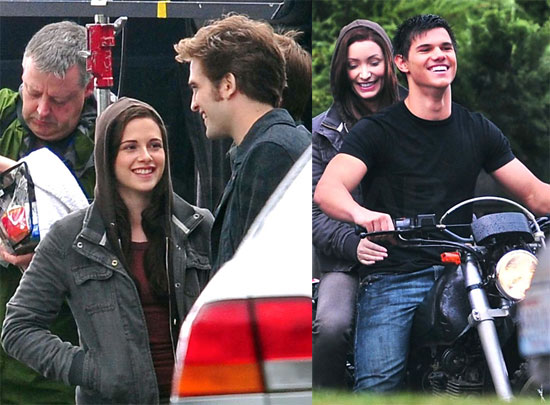 To see more from the set, just read more.