Photos of Robert Pattinson, Kristen Stewart and Taylor Lautner at LAX
Our Robert, Kristen & Taylor Interview & They're Off to Paris!
Robert Pattinson, Kristen Stewart and Taylor Lautner arrived at LAX at the same time last night, all headed out of town to continue their New Moon promotional blitz around the world. The trio and all their costars put in a long weekend of work in LA, plowing through interviews, big fan events and even making time for some philanthropic appearances. Kristen was entranced in her music as she made her way through the crowds while Robert was layered up for his arrival. We're so excited to bring you all the video from our cast interviews this weekend, but to give you a taste — Robert joked about his facial scruff turning off fans in Japan, his love of the New Moon soundtrack and what he thinks about finding "the one."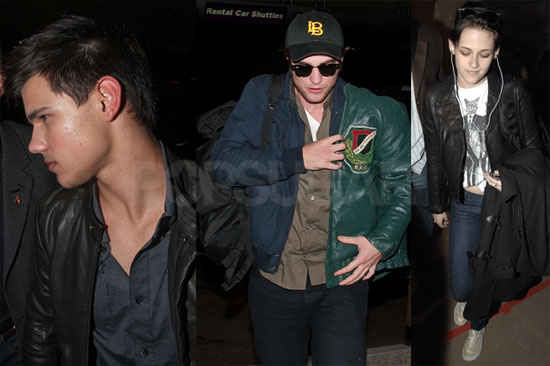 Taylor was exactly the teenaged sweetheart he seems like, saying that he hopes that he has the same loyalty and passion that Jacob Black does — judging from Taylor Swift's cute shout out in her song monologue, he's on the right track. Kristen chatted about wanting to get behind the camera one day. Tons more of that to come soon! At Saturday's junket, we were Robert Pattinson's final interview of the day and afterward he was spotted on his way out of the hotel to join Kristen who finished up about an hour before he did. She ducked out of the L'Ermitage hotel later in the night. Robert denied his skills in the romance department, but he and Kristen are happily side by side for the next few weeks of nonstop appearances.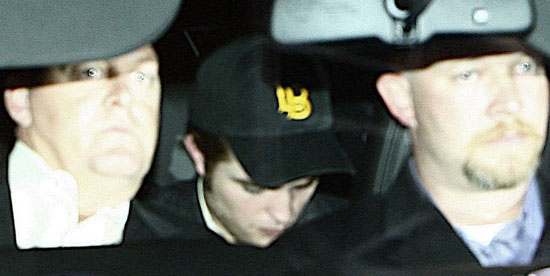 To see more of Robert, Kristen and Taylor just read more.