Photos of Robert Pattinson, Kristen Stewart, Taylor Lautner at New Moon Event in Madrid 2009-11-12 13:36:41
Robert, Kristen, and Taylor Greet Madrid, Hardwicke Talks Off-Screen Romance
Kristen Stewart traded in one cute dress for another today in Madrid, showing off a slightly see through — look at that back panel, sassy! — Balenciaga number paired with black booties at the fan event. What do you think of this dress — love it or leave it? She was joined once again by Robert Pattinson, Taylor Lautner, and New Moon's director Christopher Weitz who greeted fans, signed autographs, and waved to the crowds. While everyone is watching Kristen and Rob's every move during their promotional tour overseas, their Twilight director Catherine Hardwicke is talking about their real-life romance. She told Time,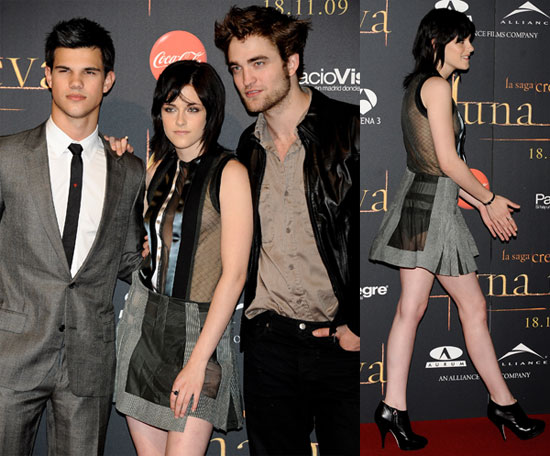 "After I cast him, I told Rob, Don't even think about having a romance with her. She's under 18. You will be arrested. I didn't have a camera in the hotel room. I cannot say, but in terms of what Kristen told me directly, it didn't happen on the first movie. Nothing crossed the line while on the first film. I think it took a long time for Kristen to realize, OK, I've got to give this a go and really try to be with this person."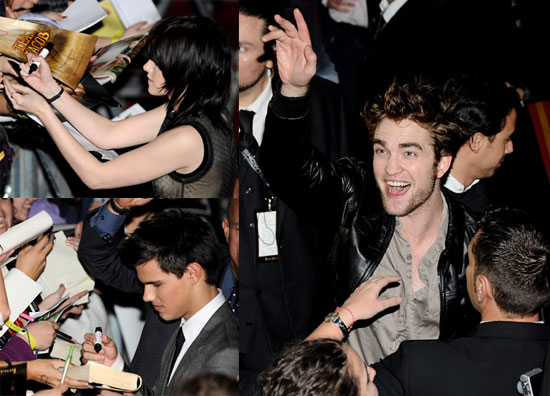 Meanwhile, fans are already lining up for Monday's premiere in LA while Robert, Kristen, and the rest of the cast have a long eight days before the movie finally hits theaters.
Lots more photos from the Madrid New Moon fan event so read more.