Photos of Robert Pattinson on a Night Out in London
Robert Stocks Up on Beers With a Girl Friend During a Night Out in London!
Robert Pattinson tried to stay hidden under his cap and hoodie last night as he left London's Lyric Theater, where he saw a performance of the apparently very creepy play Ghost Stories with Tom Sturridge. Rob was caught grabbing a few beers in a blurry photo alongside a female pal, who is apparently Tom's girlfriend. Meanwhile, Ms. Stewart was dining with musician Dee Snider and a few of her costars from The Runaways in Las Vegas. She's off again after only arriving in LA a few days ago to do some solo house hunting, and so far her long-awaited vacation itinerary hasn't included a trip to England. Rob's been logging long hours on the set of Bel Ami anyway, and we have the run up to Eclipse's release to look forward to them together.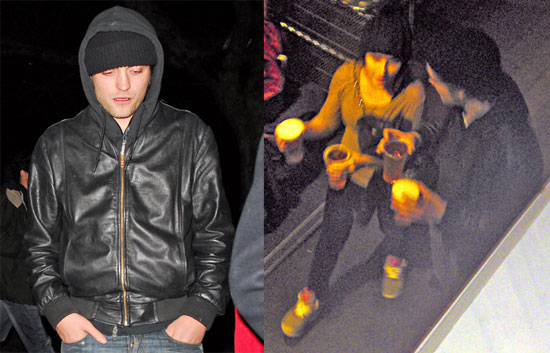 To see more Rob, just read more.