Photos of Russell Brand and Katy Perry Wearing Her New Engagement Ring
Katy Flashes Her New Diamond and New Fiance Russell!
Katy Perry and Russell Brand are back from their exotic romantic vacation in India, and she was quick to flash her new engagement ring during breakfast out in London yesterday. Most of you think it's a bit too soon for the couple to be walking down the aisle since they've only been dating since September, but judging from every photo and Katy's Twitter love, they certainly are smitten. Some are speculating that Katy is hinting that she's pregnant, but either way she's making sure her future husband knows that his native England is missing one thing she's been craving — an In-N-Out burger, animal style. They arrived back in LA last night, so she can get right on that with a trip to the drive-thru.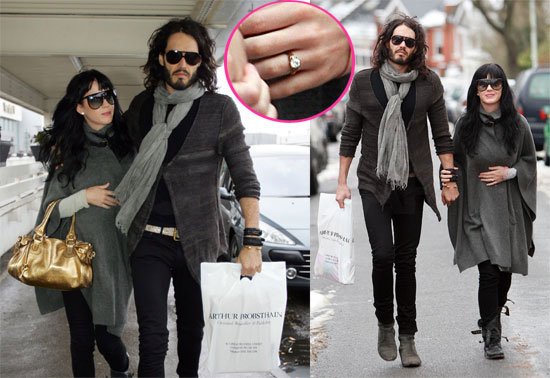 More photos of Russell and Katy and her new ring if you just read more.