Photos of Ryan Reynolds and Sandra Bullock at the LA Premiere of The Proposal
Ryan and Sandra Don't Call It a Romantic Comedy
Ryan Reynolds and Sandra Bullock clowned around on the red carpet at last night's premiere of The Proposal in LA. Scarlett skipped the photo ops with her husband as usual, but Ryan had both Sandra and his mom Tammy as dates for the evening. The movie hits theaters on June 19, but according to Sandra, we shouldn't expect typical romantic comedy fare. She said,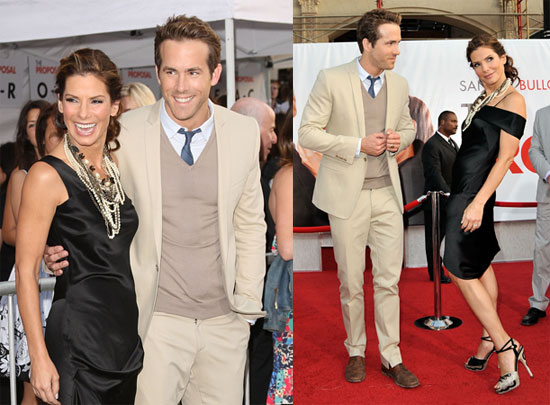 "It reminds me of the films from like the '30s and '40s where there was a landscape and a story and drama was allowed to be in there. You can't have good comedy without drama in it. And they don't generally write well for women in romantic comedies. I love my comedy too much to bastardize it with bad romantic comedy. So I was like, 'I'm going to find another way to work and do it in a way that I love.' So I'm not calling this a romantic comedy."
Romantic comedy or not, we're excited to see more of Ryan and Sandra's chemistry after the duo made us laugh with their Funny or Die video and at the MTV Movie Awards.
More photos including Betty White, Malin Ackerman, and a bunch of favorites from The Office, so just read more.
Images include: Ryan Reynolds, Sandra Bullock, Kate Flannery, Oscar Nunez, Melora Hardin, Malin Ackerman, George Lopez, Betty White, Craig T Nelson, Anne Fletcher, Tammy Reynolds