Photos of Salma Hayek at Pampers Unicef Event in New York City
Salma Wants to Pass on Her Big Heart to Valentina
Salma Hayek helped UNICEF and Pampers launch another year of their vaccine campaign in NYC yesterday. She played with the children and helped decorate artwork while taking time to speak at the event. Salma spoke about her recent charity trip to West Africa and about how she wants Valentina to grow up to be a philanthropist. She said: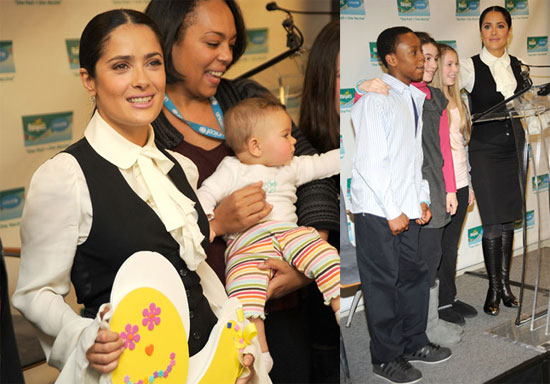 "When she grows up I'm going to make sure... when I continue to do this work that she comes with me and that she is in touch with all of these beautiful people and all of the different kinds of people around the world and that she continues to be a generous and caring person. I think that's the best thing I can give her as a mother."
To see more photos of Salma giving back just read more.