Photos of Sandra Bullock, Diane Kruger, Oprah Winfrey, Gabourey Sidibe, and More at the 2010 Oscars Governors Ball in LA 2010-03-08 09:58:12
Sandra, Kathryn, and More Celebrate Oscar at the Governors Ball
The Governors Ball was the first stop for many of the winners and presenters after last night's Oscars ceremony. Best actress Sandra Bullock went from chatting about her award in the press room to the afterparty, where she shared a special moment with her supportive husband, Jesse James. Maggie Gyllenhaal didn't claim a statue for Crazy Heart, but she continued the family evening by joining her mother Naomi Foner for a bite. Barbara Streisand cuddled up to Gerard Butler, while Diane Kruger brought her Chanel gown from the red carpet to the ball.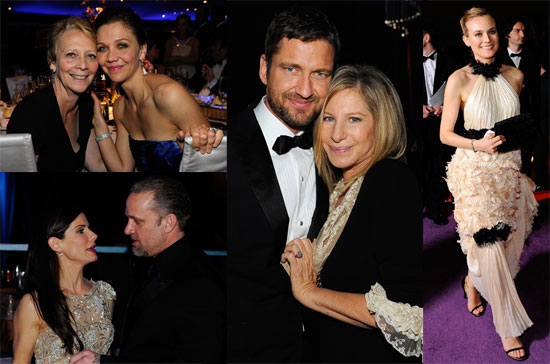 Oprah Winfrey joined Gabourey Sidibe after her touching introduction during the best supporting actress presentation. Zoe Saldana stayed in her voluminous dress, which led the way for the evening's slitty trend. Neil Patrick Harris, meanwhile, relaxed with David Burtka after his amazing opening number. Sigourney Weaver was happy to let her hair down with Anna Kendrick despite Avatar's not winning best picture, but Kathryn Bigelow and screenwriter Mark Boal were thrilled their film The Hurt Locker took home the accolade.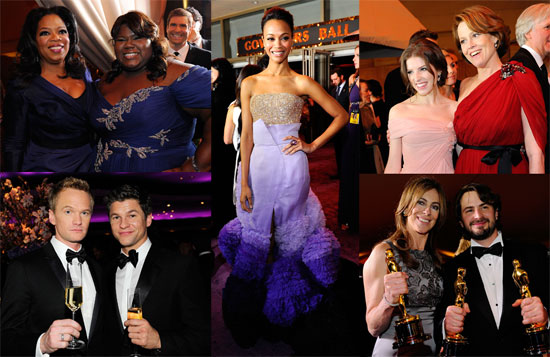 To see more photos from the Governors Ball, just read more.
Images include: Jason Bateman, Sandra Bullock, Meryl Streep, Oprah Winfrey, Tyler Perry, Mo'Nique, Jesse James, Jeremy Renner, Carey Mulligan, Zac Efron, Alec Baldwin, Christoph Waltz, Anna Kendrick, Adam Shankman, Barbara Streisand, Gerard Butler, Chris Pine, Colin Firth, Gabourey Sidibe, James Cameron, James Taylor, Jane Seymour, Wolfgang Puck, Jeff Bridges, Diane Kruger, Neil Patrick Harris, Lee Daniels, Maggie Gyllenhaal, Peter Sarsgaard, Robin Williams, Sigourney Weaver, Vera Farmiga, John Travolta, Zoe Saldana, Kathryn Bigelow, David Burtka, Naomi Foner, Mark Boal