Photos of Sandra Bullock and Meryl Streep at Critics' Choice Awards Press Room 2010-01-15 22:27:03
Meryl and Sandra Share Best Actress and Press Room Laughs at Critics' Choice
Meryl Streep and Sandra Bullock were both named Best Actress at tonight's Critics' Choice Awards in LA. After taking the stage together, Sandra came to answer questions in the press room first, but was quickly joined by Meryl, and the two beautiful ladies shared a laugh and mutual love for each other on stage. Sandra joked the whole time about being asked who she was wearing — Alberta Ferretti — and they were both charming, endearing, and amazingly admirable. Here's some highlights from both of them:
Sandra on the possibility of beating Meryl: "No, never. You know, I've said this before — I think our craft was elevated when Meryl stepped into roles as an actress and I don't think you can ever reach what she is able to do. It's just what God put her on the planet to do. You can admire and steal, which I will, but I got to share a stage with her . . . it just doesn't get any better than that, because of the woman she is."
Meryl on Sandra: "I've really admired Sandra's work especially this year — I told her I had a marathon this weekend, not just two films but others from when she was even younger. [To Sandra] You have an amazing gift, you really do. There are things that look easy, but they're the hardest things in the world to do, just to have charm. This woman has a passion, feeling, everything — when she's funny it's always from a real centered place in her emotional life. She's as good as it gets, babe. I'm proud of you."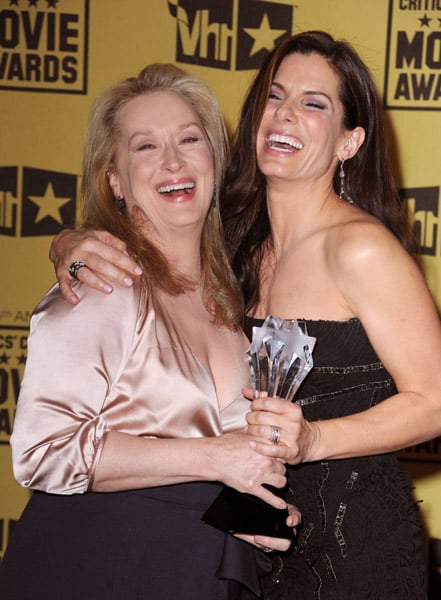 To read more from both women, just read more.
Sandra on Oscar hopes: "I don't expect that — the Oscars are just a beautiful thing to watch and I've been watching for many years. I'm just so happy to be here and I got to share the stage with Meryl Streep. She's just a good woman. A good woman with a great head about this business and a sense of humor. I just adore her, so that for me was the height of my career and it just happened. I'm so thankful and it's unexpected, as most good things are."
Sandra on a role changing her life: "It can change your life in the sense that it can bring other opportunities. It can change your life in that I didn't say yes to it, and I met this extraordinary family the Touhys, who I wish I would have remembered to thank since they already did the extraordinary deed and Michael Oher did the most extraordinary thing in opening his heart and allowing himself to be enveloped by this family. They changed my life and I am so happy to call them friends. And they're Republicans, and I'm OK with that and they're OK with me being a democrat."
Sandra on the late-night battle: "You don't see the conspiracy? All the hosts are in on this together. They just want to whip you guys into a frenzy so you'll take sides and they're all in this together and pooling the money. "
Meryl on her daughters becoming actresses: "Um, interestingly enough they don't ask me for advice. They give me advice, 'don't wear that.' I've told them that they never have to do anything that they don't want to do, which is good advice for anybody. God knows I encouraged them to enter sciences, anything else, they just love it. They're wonderful. I love my daughters for being actresses now. They're very talented and very different from each other."
Meryl on award season: "Oh it makes me feel fantastic. First of all you get all dressed up and it makes you feel young and happening. It's really a thrill to go through that and some part of me always has the terror that I might win, so you get ready and you remember all the names — although of course I forgot some tonight because I wasn't really thinking I would win it. I love seeing all of the people. I've worked with so many of the people, many of them I haven't worked with who are my friends and I don't see them all regularly, so it's sort of like coming back to town."