Photos of Sarah Jessica Parker, Jennifer Lopez, Katherine Heigl at 2010 ShoWest in Las Vegas 2010-03-19 06:00:00
SATC Trio, Jennifer Lopez and Katherine Heigl Steam Up ShoWest
Sarah Jessica Parker, Cynthia Nixon and Kristin Davis represented Sex and the City 2 at ShoWest in Las Vegas yesterday. They showed off two different sets of outfits, rainbows of color by day and sexy black numbers by night for the event's award show. Newly Grey's Anatomy-free Katherine Heigl had some new extensions to go with her darker hair, promoting her movie with Ashton Kutcher, Killers before being honored in the evening — though he acceptance speech took a turn for the worse when the strap on her dress broke! Jennifer Lopez struck a fierce pose of her own just a few weeks before The Back-Up Plan hits theaters.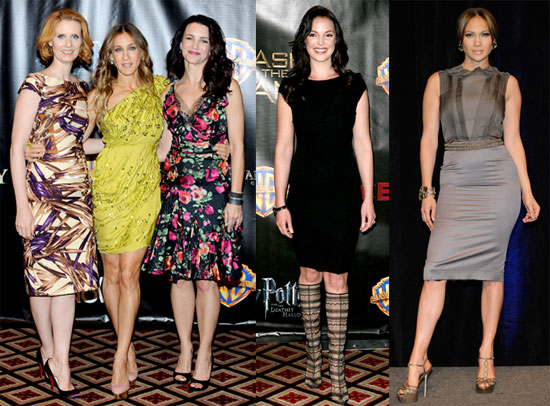 Sex and the City 2's May release can't come soon enough, and the ShoWest Awards gave us another peek into the thrilling fashion we can expect from the girls even without Kim Cattrall, who's performing onstage in London. SJP was solo at the theater showcase in Vegas two years ago for the first SATC, but this time she was flanked by Kristin and Cynthia. Vanessa Hudgens and Neil Patrick Harris attended events together for their Beastly.

To see more from ShoWest including Josh Duhamel, Neil Patrick Harris and others, just read more.