Photos of Sarah Jessica Parker on the Set of Did You Hear About the Morgans?
SJP Wants Us to Hear About Her Affection For Hugh
Sarah Jessica Parker was sporting a wig yesterday on the set of Did You Hear About the Morgans? in NYC. Lucky SJP is filming in her home city, which means she just might be available for those all-important school runs with James Wilkie. When she isn't with her son, she'll be hard at work with her costar Hugh Grant — and in a recent interview, she opened up about both guys and a little about herself. Here's more: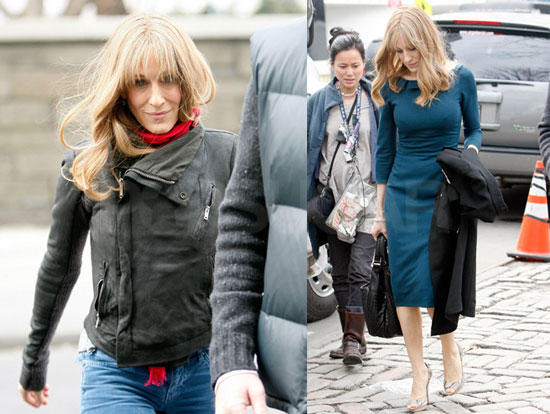 On her son, James Wilkie: "James always asks for five more minutes in bed – I have to drag him out at 7.30am. . . I don't delegate that job of getting my son dressed and out of the door in the morning to anyone else unless I have to because I'm working. . . It's not so much that I think I'm so incredibly interesting to be around, but I feel like I would lose out and be worse off if I didn't do it. I'm not saying my son wakes up in the morning and is inspired by me, it's just that I love being his mother. Children are so cute and talkative when you get them out of bed, vulnerable blabbermouths, but when they get older they talk less. As the days fly past, it's only going to be a few more years that he likes me. Maybe he'll always love me, but he might not always want to be around me – he might not always like me. He's borderline embarrassed by me already, so…"
On her self-confidence: "I don't spend a lot of time thinking about what to change. There are things we all have that we would like to work on, and I have a list of things that I could do better in my life. But as for the physical attributes, or lack of, I think a lot about how to be a better person instead. Better wife, better mother, better friend. Those I work on."
On Hugh Grant: "I think Englishmen live up to all the ideals and Hugh is a perfect example. He's a definition for all of us less well-travelled Americans of the classic literary and cinematic Englishman – witty and brainy. There's nothing smarter and sexier and more interesting than a brain, and I'm very excited about working with him.
SJP's had her fair share of hot leading men to share the screen with, and it'll be interesting to see what happens when she teams up with this charming Brit. To see more of her on set just read more.