Photos of Sarah Jessica Parker at Waverly Inn Chanel Mobile Art After Party, Interview With Her On Favorite Chanel Piece and Art
SJP Carries Her Mobile Art Under Her Arm and Talks Chanel
Sarah Jessica Parker signed autographs for fans as she left the Chanel Mobile Art after party at The Waverly Inn last night. SJP and Karl Lagerfeld were two of the big stars at the party last night and while Fab's got the scoop on Karl here's what SJP had to say. She played coy about the possibility of a sequel to the Sex and the City movie, smiling when asked if she had signed on yet and saying "Oh, geez, I don't know," but she did speak about Chanel and the mobile art pavilion. Here's more: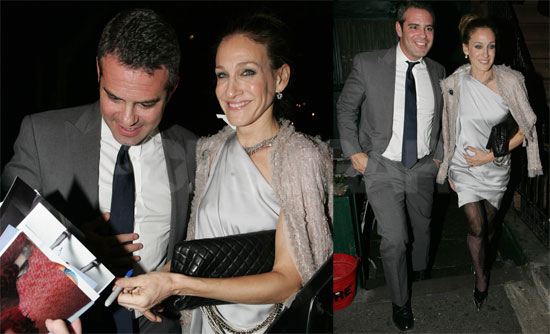 On her favorite Chanel object: "Does one have to pick a favorite? It would be hard to deny the perfection of the Chanel bag. Don't you think?"
On the mobile art exhibit: "Well, I think that public art is kind of vital and sometimes it's glamorous and sometimes it's related to some kind of aesthetic and sometimes it's surprising and without calculation and this is just a very special sort of moment! And I'm excited to know that it's going to many places – it's traveling across the world."
Sarah Jessica Parker had her perfect Chanel tucked under arm as she headed home after another fantastic night out in NYC.