Photos of Scarlett Johansson and Samuel L. Jackson and Interview Quotes From Spirit Press Conference
Scarlett and Samuel Are Like Ricky and Lucy in Spirit
Scarlett Johansson and Samuel L. Jackson stopped by The Today Show this morning to help promote The Spirit. Over the weekend the costars gave a press conference in NYC, where they jokingly pushed and teased each other while talking about what it was like to play villains together. Frank Miller, who wrote and directed the movie, called Scarlett "one of the greatest comedic talents of our time" and said working with her was like "working with a young Lucille Ball." Here's more: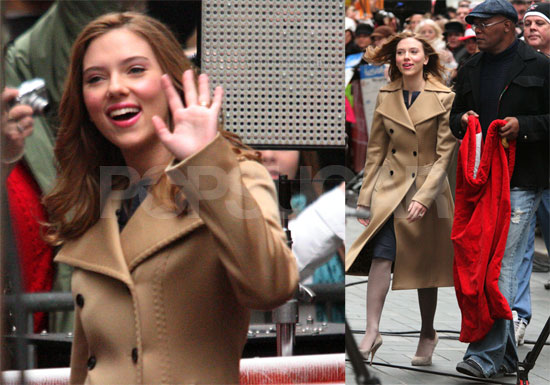 Scarlett, on why she chose the film: "I'm not really a comic book fan. That world always seemed kind of exclusive to me. What brought me to this project was Frank. I loved Sin City and 300 and I thought 'He must be a pretty interesting fellow.' I'd gotten a script and there really wasn't any part for me, the Silken Floss character was kind of unwritten. . . we met and had this wonderful three-hour lunch meeting . . . at the end of it I'm like, 'I'm sad there's nothing for me to do.' And he's like, 'I'll think of something.' He decided to expand this character and I got super super lucky. That was really it for me."
On working with Samuel: "As far as Sam and I, it's funny that [Frank] said Lucille Ball . . . the kind of comedy that we're in, I feel like Sam was kind of the Lucy and I was the Ricky."
On being eye candy: "The character, she knows that's what she's offering to the Octopus, and it's part of her appeal. She's this giant brain who looks fantastic in a short skirt . . . These are her humble beginnings."
To see what Sam had to say about his character, the Octopus just read more.
On his role: "It's quite an honor to walk into a situation and put flesh and blood into a character. He gave me license to pretty much be as demented and as genius and as . . . that's what I wanted. I kind of took that as my license to do all the things that I've ever wanted to do in a film and chew as much scenery as I felt like chewing and not be criticized for it. "
Frank Miller and the actors already seemed to be anxious to get to work on a sequel, but first we'll have to see how the holiday crowds treat The Spirit when it comes out Dec. 25.