Photos of Shiloh, Zahara and Pax Jolie-Pitt with Angelina Jolie and Brad Pitt in Paris
Photos of Shiloh, Zahara and Pax's Sunday With Brad and Un-Wanted Angelina!
Brad Pitt and Angelina Jolie tripled up with the kids today, bringing Shiloh, Zahara and Pax back to Venice. They're in Italy again after spending time in France, where the children visited Angelina on The Tourist set in Paris — Pax peered down at Angelina filming on Thursday while Shiloh and Zahara stopped by on Tuesday. Brad and Angelina also squeezed a date night into the busy few days. Shiloh's short haircut photos caused headlines last week, but there was also some Angelina movie news to close out Friday. She apparently dropped out of the sequel to Wanted, causing the studio to scrap the project entirely.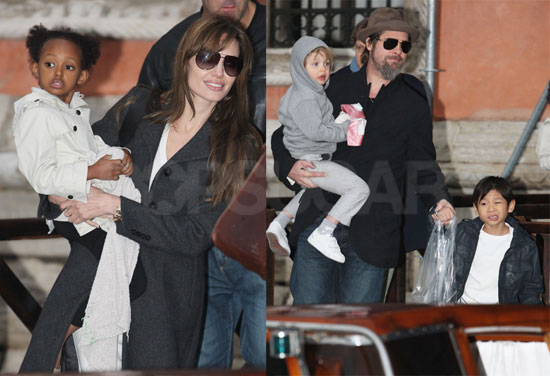 To see more photos of Brad, Angelina and the kids, just
.