Photos of Sienna Miller Promoting GI Joe And Talking About Balthazar Getty
Supposedly Single Sienna Talks Balthazar and Apologies
Sienna Miller is still in NYC making the rounds to promote GI Joe. She joined Channing Tatum and Marlon Wayans yesterday for a visit to Fuse TV, where she came face to face with her character's doll she doesn't like. Sienna gave a recent interview to British GQ in which she discussed her love life and her still recent romance with Balthazar Getty. She said: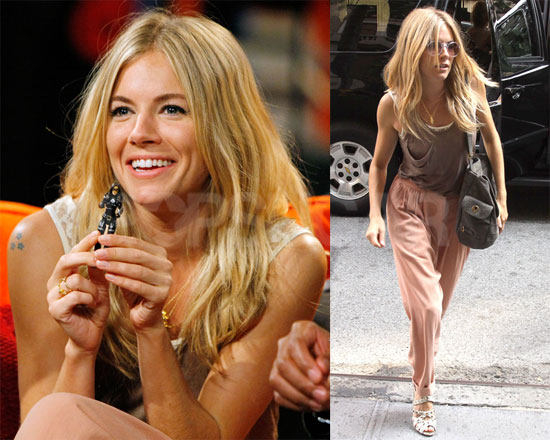 On her relationship with Balthazar: "[The relationship] probably looked awful. . . I probably seem like not a particularly nice person, not a girl's girl."
On people's perceptions: "I do think sometimes people get morally superior without understanding situations. And the situation I got into was not ideal, but it happened and if I could go back and be more responsible, I would. . . I probably would be less naive about ignoring the fact that people care. I've always kind of done exactly what my instincts said. I have a good brain on me, but I've never really used it when it came to making decisions about love, which has been a blessing and a curse."
On making amends: "I've made apologies to people I needed to, but I can't apologize to people I don't know for things they don't understand."
On her love life now: "A few dalliances, three months here and there, but I've never been like a shagger. . . I've actually been kind of single for the past year. I've had somebody on the end of the phone maybe, but I haven't been living with anyone or been in a proper relationship, and it's been really great. . . I'm completely on my own. I think I've grown up a lot."
Sienna and Balthazar have broken up and made up more times than most would care to remember, so it remains to be seen if their romance is really and truly over for good.
To see more Sienna just
.