Photos and Story of Nicole Richie and Joel Madden Welcoming Sparrow in 2009
Biggest Headline of 2009: Nicole and Joel Welcome Baby Sparrow
We've been counting down the biggest headlines of 2009, and we'll be revealing more throughout the month of December. We hope you enjoy this look back at some of the posts and stories that created the most buzz throughout the year.
Joel Madden took to Twitter in February to announce the exciting news that his family of three would be expanding in 2009. The next day, Nicole Richie showed off her second baby bump on her way into an Oscars party with Joel. Over the next few months, the mom-to-be kept busy with her oldest, Harlow, and her jewelry line.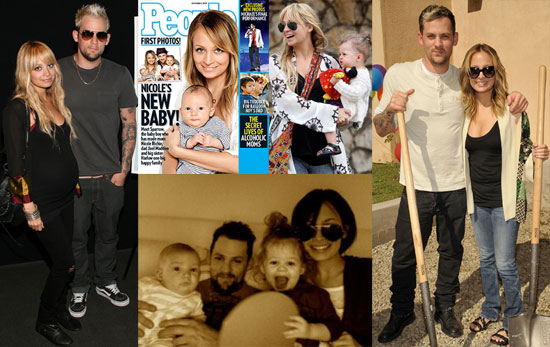 The adorable family celebrated Mother's Day together right before the news came out that the newest Richie-Madden was to be a boy. As Summer rolled on, Nicole brought her growing bump to concerts, charity events, and even red carpets. The expecting parents also were able to enjoy some alone time on the beach in Malibu in July. By September, the little guy couldn't wait any longer. Nicole announced the birth of her son Sparrow James Midnight Madden on her website Sept. 9. Sparrow made his debut shortly after in the pages of People before Nicole herself shared some at-home snaps of the happy foursome. Now, the family is gearing up for Sparrow's first holiday season as Nicole also gets back to work on her newest House of Harlow 1960 collection, clothing line Winter Kate, and an upcoming TV show for ABC.