Photos of TR Knight and Katherine Heigl, Who Recently Spoke About Being a Mormon
Katherine and TR Explore The Americana's Anatomy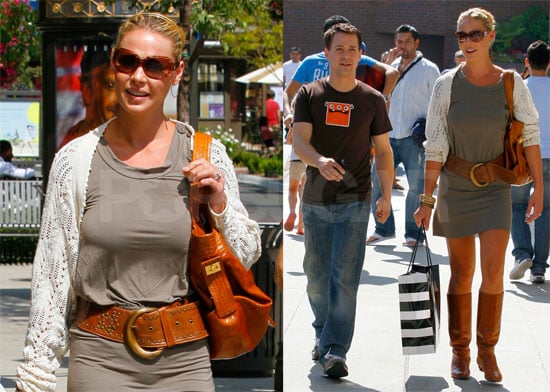 0
Katherine and TR Explore The Americana's Anatomy
Real life BFFs Katherine Heigl and TR Knight took a break from work as George and a possibly dying Izzie for a shopping trip at The Americana in Glendale yesterday. These days, Grey's isn't the only thing on Katherine's plate — among other projects she is producing and starring in the polygamist movie Escape. She recently opened up about her own Mormon upbringing while talking about her life. Here are some highlights:
On being Mormon: "[I'm not a] strong, practicing Mormon. I'm not as disciplined about it as I once was, but I hope to find my way back as I get older and a little less selfish. I'm ashamed to say that I've just got very lazy about it. I satisfy my vices instead of fighting them. If I start going back to church, I'd have to stop the smoking and drinking, and I wouldn't be able to curse any more."
On her family becoming Mormon after her brother's death: "It changed everything for all of us. Everybody suffered in different ways. It really screwed up everything, and it took a long time for us to be able to function as a family again without him."
On fame: "Before, my worries were, 'Am I ever going to work again?' and, 'Can I pay the mortgage this month?' There were so many lean years. A lot of lean years. The success is great. It gives me much more freedom."
To see more of Katherine shopping with TR and hear what she has to say about Josh, her acting career and her plans for a baby just
.
On meeting Josh and his proposal: "We ended up having dinner after filming [his music video] and when he hadn't called the next day, I called him because I really liked him. I also told him I loved him first. I didn't propose to him — but I suggested strongly that he should propose. So when he did, it wasn't a big surprise. But he was so nervous, which I found endearing. He took me back to Venice Beach where we'd met during the making of his video, and he was so romantic. He'd set up a table for dinner with candles and wine. It was so surreal, because you suddenly realize it's not dating any more — it was intense."
On starting a family: "Marriage is actually really terrifying. It doesn't work for many people and, in today's society, you don't really need that piece of paper. But I came to the realization that I want a family, and I think marriage is the first step. [...] I think we're both on such a career trajectory right now it would be foolish to waste the opportunities. I think he'd prefer to wait a little more, but I kind of wouldn't, so I think we'll meet somewhere in the middle."
On her acting career: "It doesn't get much better than this. I would hate to take it for granted, because it won't always be like this. If I have another 10-15 years before my acting career peters out, I'll be lucky. [...] I want to stay in the moment and enjoy the great things that are happening. I hope it continues for a while. That would be nice."
Katherine seems happy with how her future looks, but we're more interested to see what's in store for Izzie's when Grey's Anatomy returns in the Fall.