Photos of Tom Cruise Out in LA Honoring the Work of Irish People in Film; Katie Holmes Shopping With Shoeless Suri
Suri Is Barefooted and Tutu Cute Shopping With Katie as Tom Oscar Preparties!
Tom Cruise drove his motorcycle to LA's Wilshire Ebell Theatre last night to join JJ Abrams for the fifth annual "Oscar Wilde: Honoring the Irish In Film" event. The ceremony was scheduled for just before Oscars weekend starts — make sure to fill out Buzz's ballot with your winner predictions! Earlier in the day, Katie spent her afternoon out shopping with Suri. Tiny dancer Suri wore a tutu but no shoes as they hopped back into their car and headed off for a doctor's appointment. Their outing, plus Katie's bunchy dress, won't do much to quiet rumors of another pregnancy, though you guys think their family's perfect as it is already.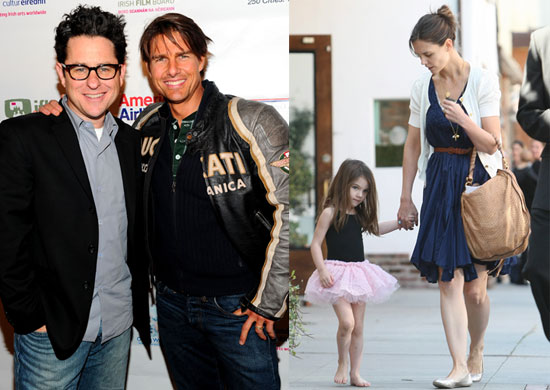 To see more of Tom, Katie, and Suri, just
.