Photos of Twilight and Eclipse Stars Kellan Lutz, Anna Kendrick, and Jamie Campbell-Bower in BlackBook Magazine
Kellan, Anna, and Jamie Make BlackBook's List
BlackBook put together a list of up-and-coming young actors, and three stars from the Twilight series made the cut. Anna Kendrick, who plays Bella's friend Jessica, made the list, as did new vampire Jamie Campbell-Bower. Kellan Lutz rounded out the trio, sitting down for a special interview as he gets out there promoting both New Moon and Nightmare on Elm Street — check out that film's scary new trailer. He opened up about sacrificing his love of science for modeling, dealing with fame, and life in Vancouver. Here's more: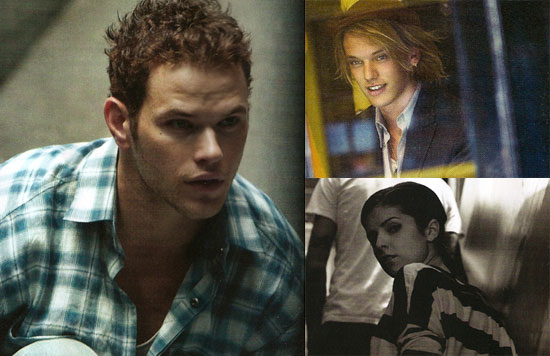 Kellan on giving up science to model: "I got a scholarship to go to Chapman University for chemical engineering in Orange County, and my father's always lived in LA, so I just wanted to pack up and go there. . . When I was in LA, it was extremely lucrative with the modeling — the money, the opportunities — it's LA so it was fast-paced and I was making more money and traveling all over the world. I just kind of fell into acting as a way to show off my personality."
On dealing with Pattinson-level fame: "Well, it's crazy because with all this attention, all of us are handling it extremely well. We still have our head on our shoulders and our feet on the ground. Rob's handling it so well. I can't fathom being in his shoes. I believe I could handle it, but being cooped up in Vancouver and not being able to leave the hotel room or the apartment without having a driver and having to hide out — especially when he was shooting Remember Me, I talked to him a lot in New York and those fans were just crazy."
On the fans in Vancouver: "Well the thing is, we can't rent out the whole hotel, so fans will come up that know we are shooting there to have a chance to see all of us in one place. They'll get rooms and every time one of us leaves, they're there. It's great to talk to them but you really can't sneak away."