Photos of Twilight's Kristen Stewart, Robert Pattinson and Taylor Lautner Together at The 2009 Comic-Con in San Diego
New Moon Reunion For Rob, Kristen and Taylor at Comic-Con!
Kristen Stewart, Taylor Lautner and Robert Pattinson met up this morning for a photo call in San Diego at Comic-Con. Robert made his way to the West Coast all the way from NYC, while Kristen wrapped up work on The Runaways and headed down from LA. It's the first time we're seeing Rob and Kristen together since their parting in June after the MTV Movie Awards, and all eyes were on them and their much-speculated upon relationship. The trio is due to take the stage for a panel this afternoon, so stay tuned to Pop and Buzz for all the info from the event.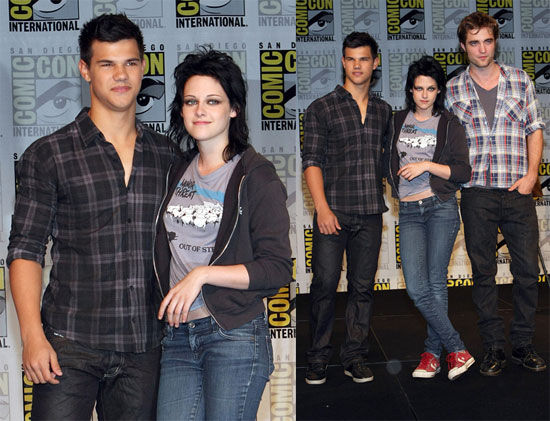 To see more of Rob, Kristen and Taylor just read more.